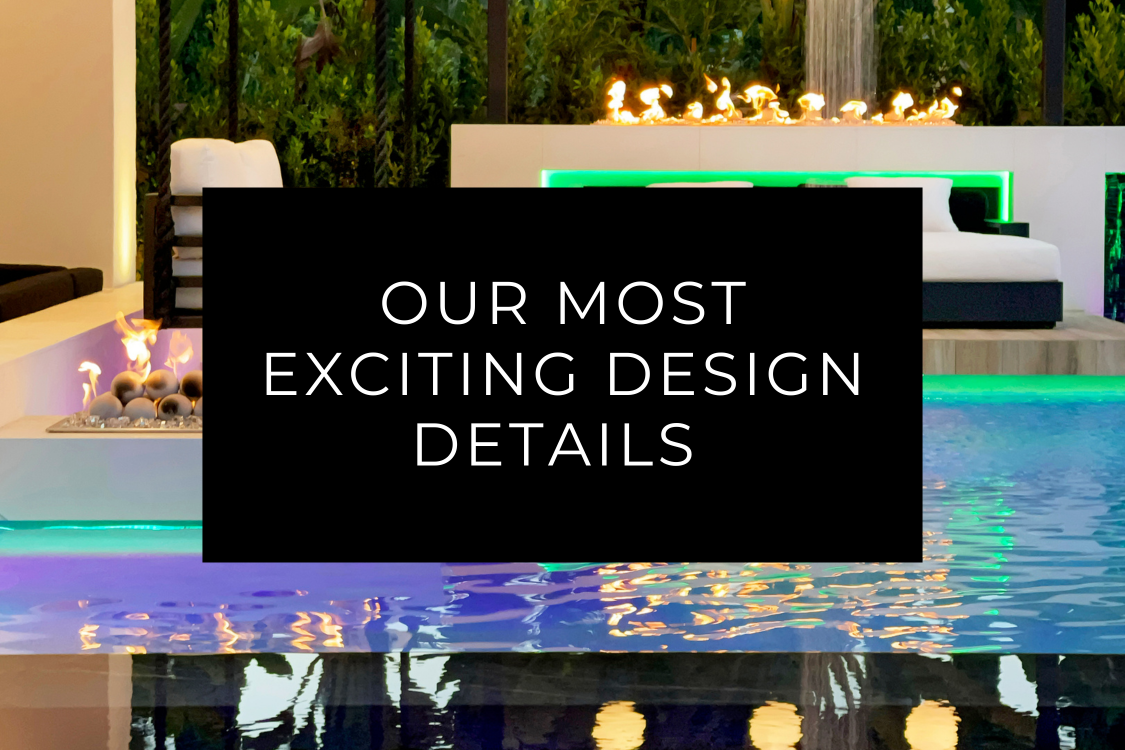 One of our favorite things about designing an exterior space is incorporating our client's personalities, interests, and hobbies into their yard.

We love transforming boring exteriors into private resorts and including elements that take them to the next level with that 'wow factor.'

Sometimes, our clients want a tranquil, serene spa-like outdoor space.

But, other times, they want their yard to be the ultimate place to entertain—that's packed with activities, space for games, sports, and more.

And we get to add design features that are purely there for fun.

Here's a list of some of those features that take a yard from boring to 'wow.'

Make sure you read all the way to the end, because the last one's our favorite and you're going to wish your backyard had these…

Ready to transform your yard into the ultimate entertainment zone that has everything you need to enjoy your weekend—every weekend? Click the button below to schedule a free consultation with our team.
A Look At Our Most Exciting Designs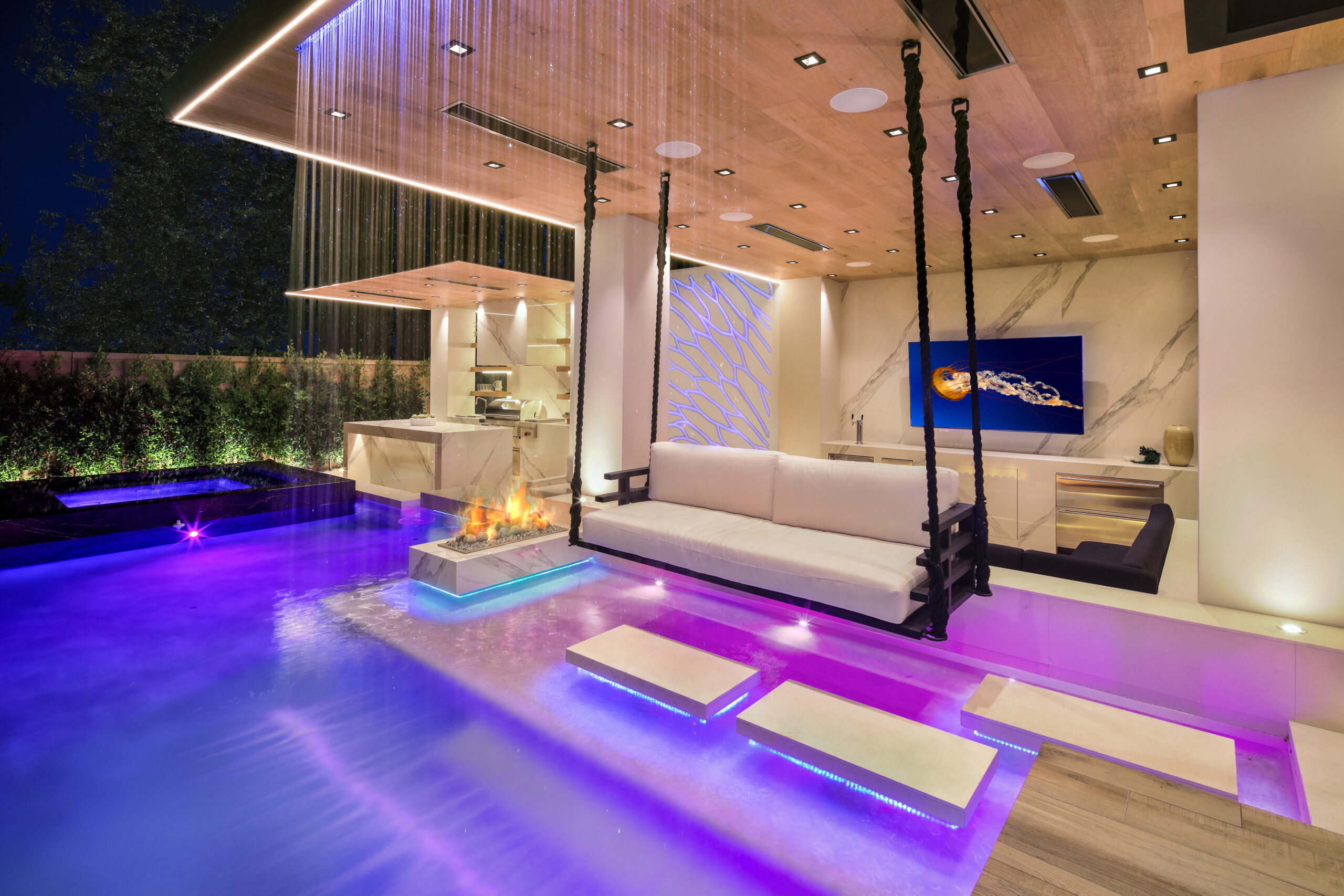 An Unforgettable Swing
Hanging chairs and lounge areas are gorgeous in any yard. But, we added a playful twist to this idea for our client's yard.

And, with a budget of $1M+ for the space, we were able to get really creative!

Instead of going with your typical lounge area, we added a swing right over the pool, so you feel like you're floating over the water every time you sit down.

We couldn't believe how cool this feature was when we finally saw it in real life, so it's no surprise that our clients absolutely love lounging here.

Want every detail on all the elements that brought this $1M+ backyard to life? Click here to watch the video.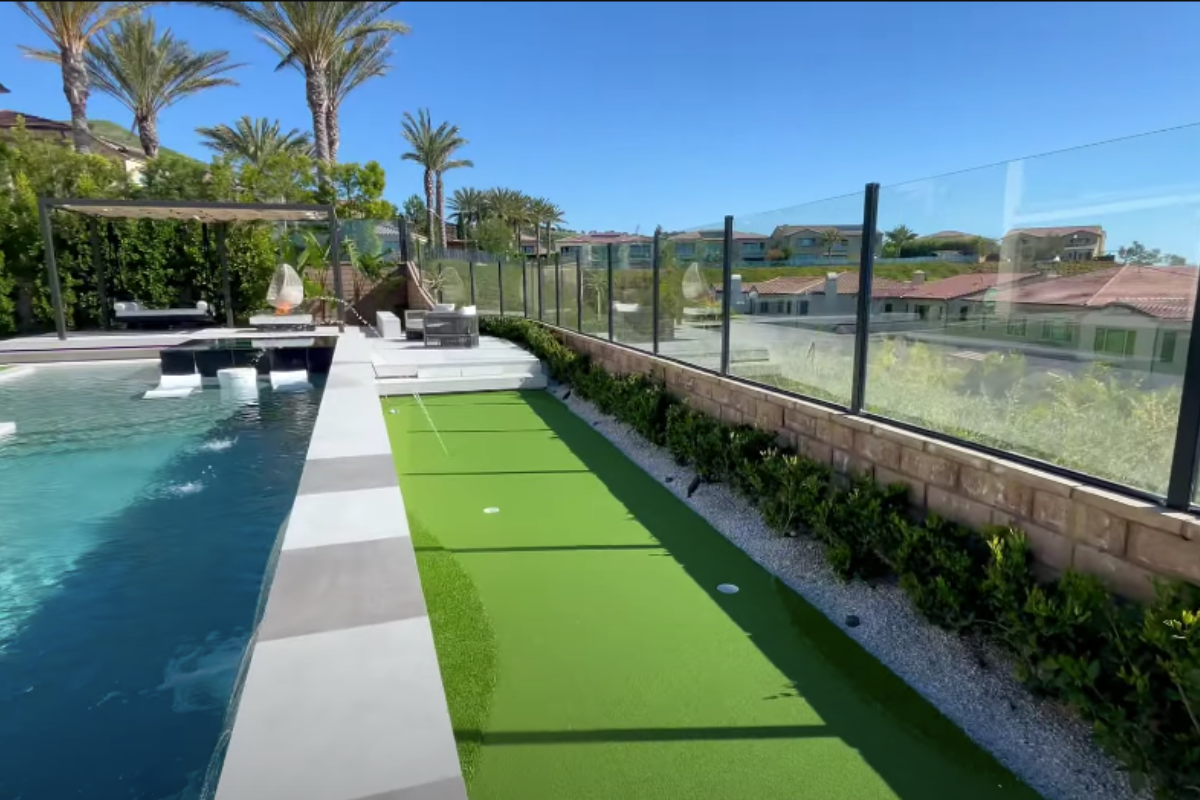 A Hidden Putting Green
There's no need to head out for weekend entertainment when you have a putting green out back.

And, this yard is especially unique because at first glance, the focus is on the pool and lounge area.

The space is minimal and modern in design…but there's a hidden secret.

Behind the pool, in space that would have just been unused, we added a putting green.

It's out of sight, so our client still has a super relaxing private resort to enjoy.

But, when they feel like having a little fun, they can tee off.

Want to tour this yard? We share every detail and a behind-the-scenes look at our design process over on YouTube. Click here to watch the video.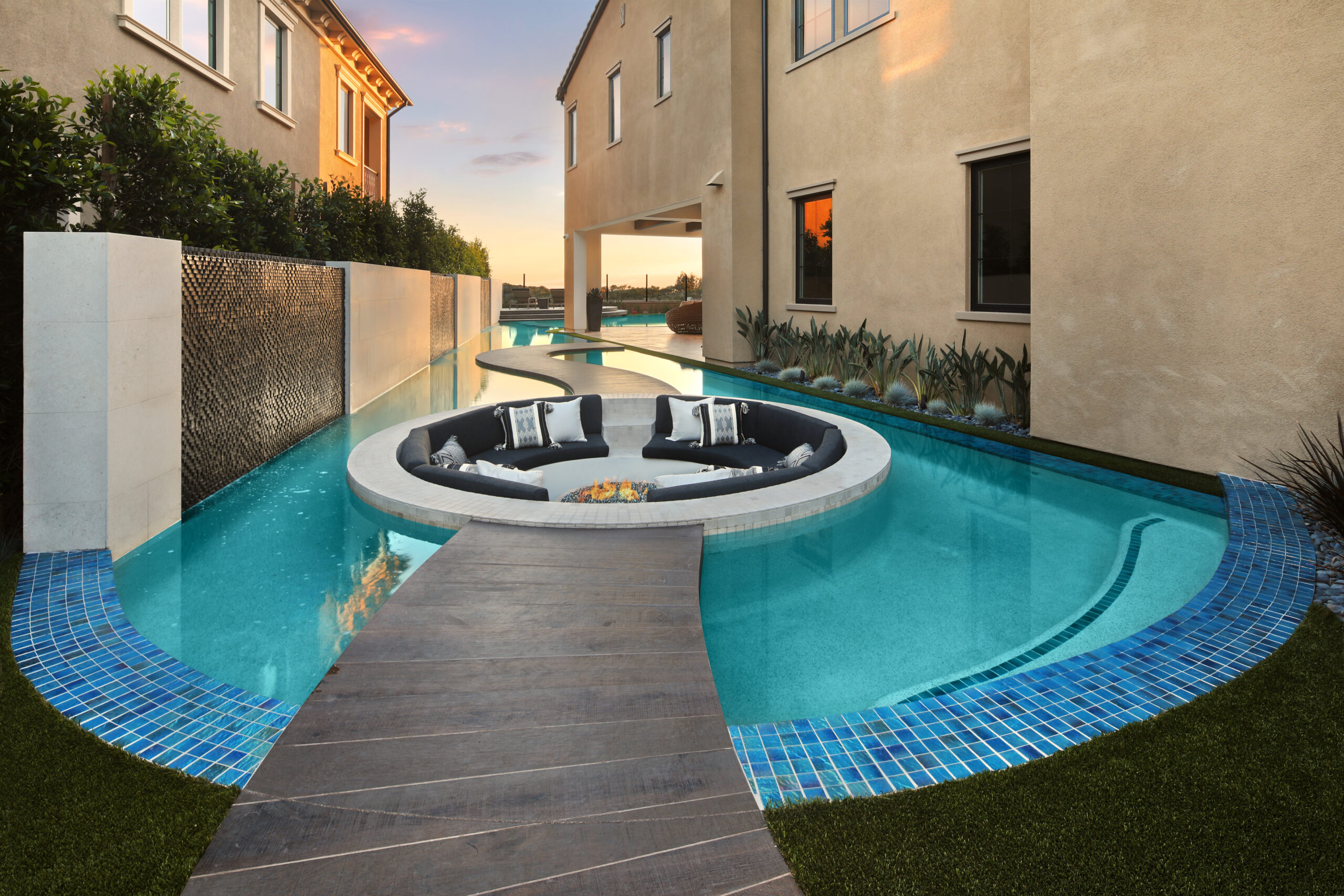 Fire On Water?
A fire pit is a must-have staple for any backyard—especially if you love to host friends and family for s'more night. But, in this yard, we took 'fire pit' to the extreme and designed a floating fire area.

You get to cozy up in a floating sunken seating area, enjoy a gorgeous view, AND warm up fireside.

But, what takes this yard to the next level, are the boardwalks that lead you across the pool and make you feel like you just stepped off the plan in the Maldives and are about to check into your private cabana for the night.

…except you didn't have to brave a many-hour flight to enjoy a 5-star resort on the water.

Want to see some more of our favorite backyard makeovers? We have a ton of design inspiration on our blog. Click here to check out some of our other posts.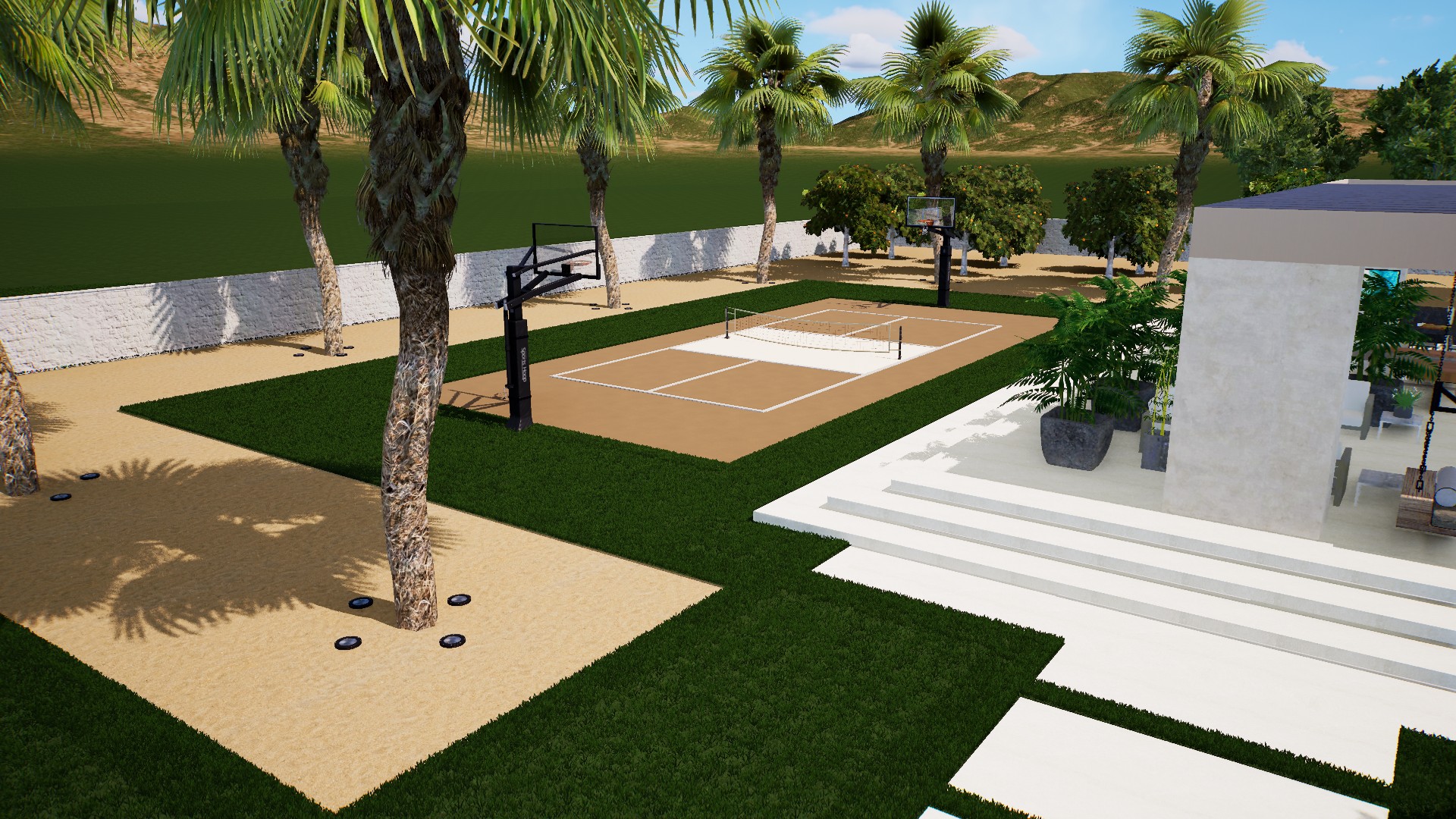 Pickleball Anyone?
Whether you're competitive by nature or want to enjoy a leisurely kid-friendly game, pickleball is the way to go.

It's one of our favorite sports because it's genuinely so much fun to play, but also because it's perfect for the whole family, grandparents included!

That's why we get extra excited when a client wants to add a pickleball to their yard.

And, while we've had a number of clients request a pickleball court this year, one client had us add the court to their ROOF of the house, which was definitely a first.

Imagine how incredible it would be to play a game of doubles with your favorite people while enjoying your yard's stunning views instead of heading to the park and hoping a court is free.

This is one feature we're going to keep adding to yards whenever possible.

Are you following us on Instagram yet? If not, click here to see our latest designs.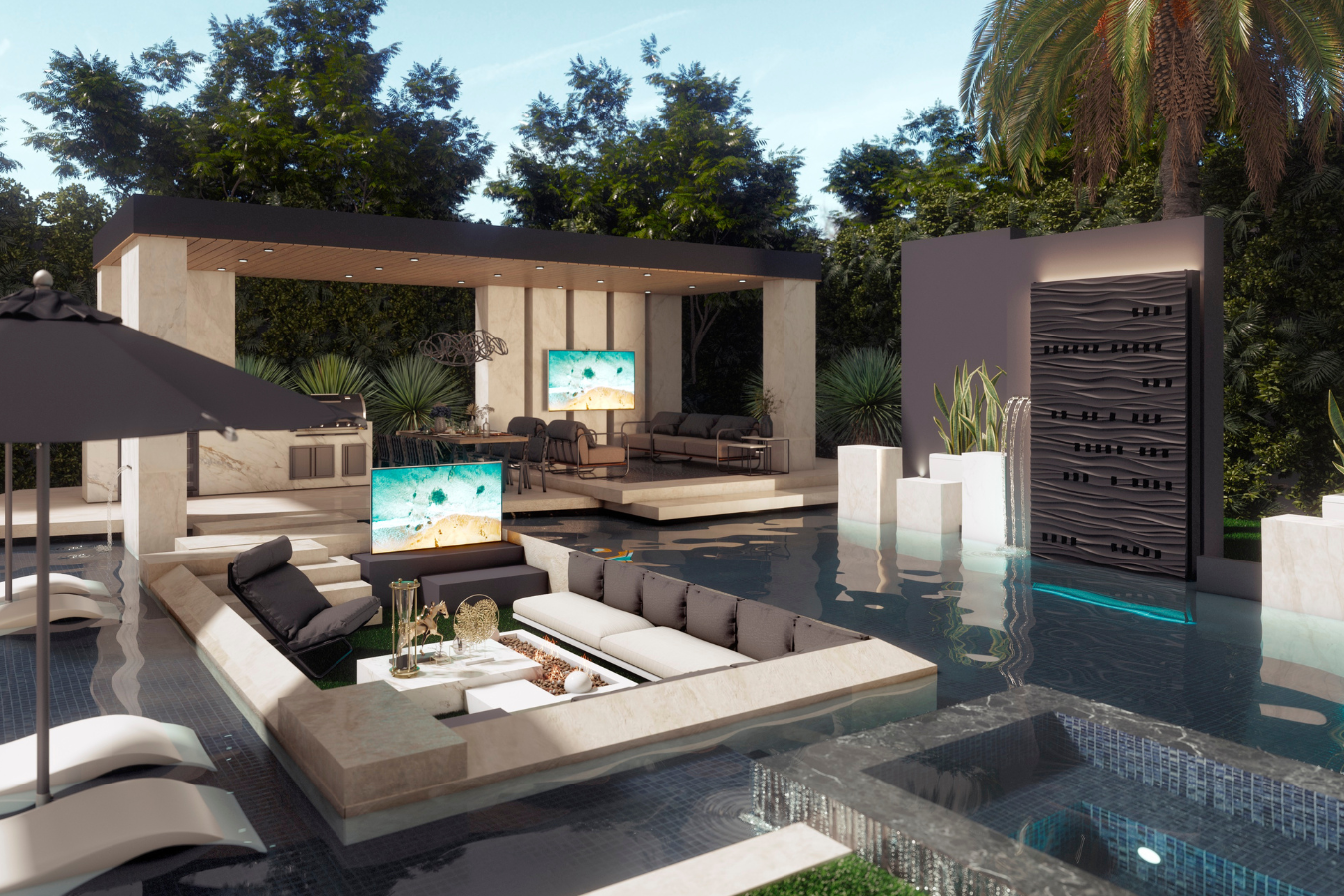 A Floating Entertainment Zone
What if you could watch the game, from the middle of your pool?

We created a seriously insane entertainment zone in this client's yard.

We designed a floating, sunken seating area and then added a retractable TV to the space so they don't even have to leave the pool to check the score or host movie night.

This is one of the coolest features we've added to a sunken seating area and we'd definitely be hosting the BEST BBQs if this was our yard. How about you?

Wish you had an incredible place to watch the game like this? Click here to fill out a design inquiry and schedule a free consultation call to talk about transforming your yard.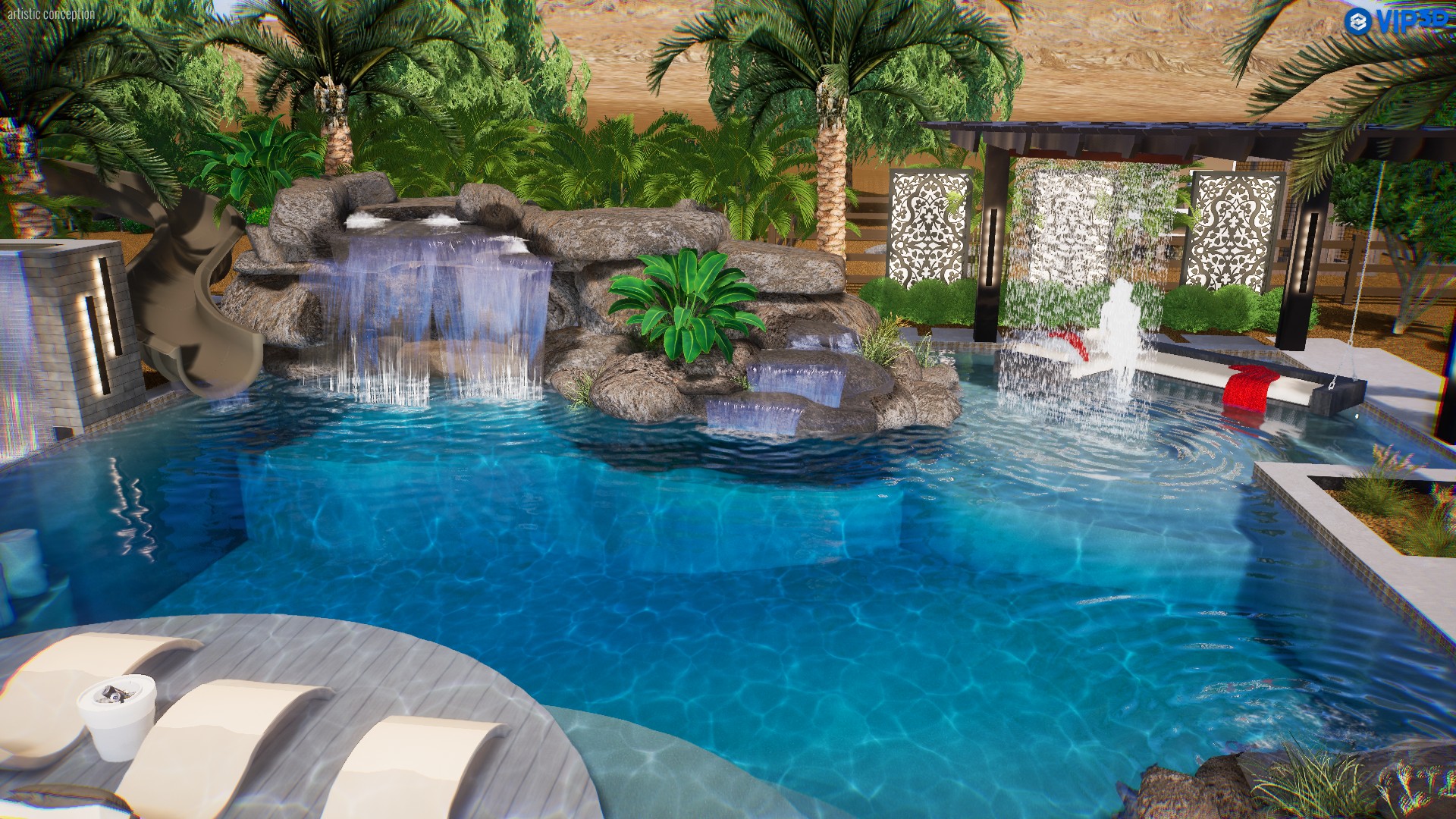 A Private Island Waterslide 
You'd never have to go on vacation again…

…if you had a private island waterpark in your backyard.

And that's exactly what we designed for our clients.

We completely transformed their space and made it feel like they have their own island getaway—complete with big boulders and a waterfall.


The entire space is made even more magical thanks to the waterslide and waterfall that make it family-friendly and seriously fun.

Wish your yard looked like this? Click here to schedule a free consultation call with our team to talk about making over your outdoor space.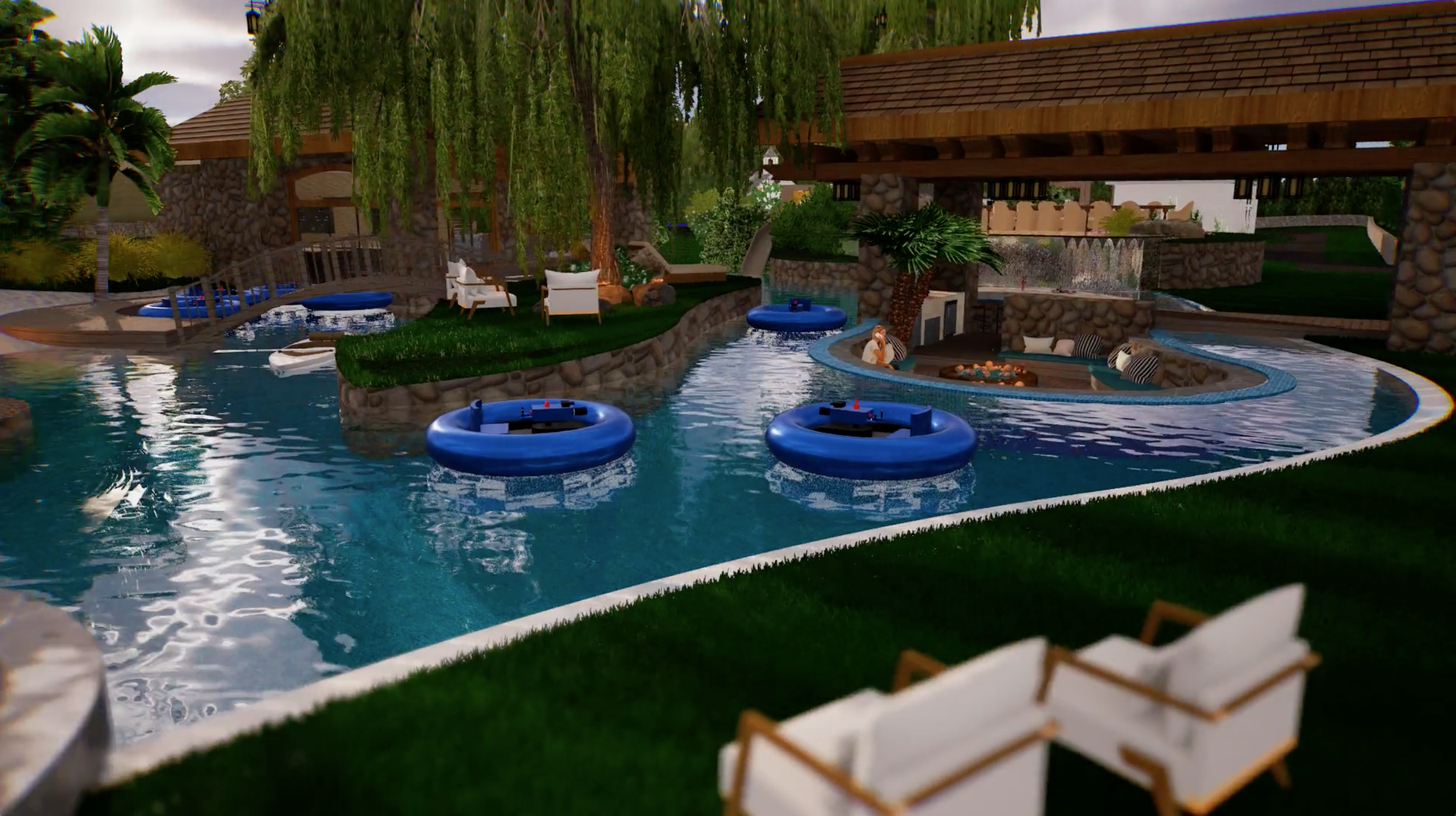 Bumper Boats For Endless Fun
If you're anything like us, your teenage self would be giddy thinking about having bumper boats…

…in your backyard.

For this client's design, we made a massive lazy river area, complete with an island, bridge, and bumper boats.

This is the first time we've ever incorporated BUMPER boats into a design & now we're wondering why we don't always add them!

We wanted to create a space for our clients with everything they need for a family-fun weekend away. But we made it so they don't have to get on a plane to have an insanely fun vacation.

We can't wait to see this space once construction is complete so we can test out those bumper boats!

Make sure you're subscribed to Foxterra Design on YouTube, because we're definitely going to share a video tour of this yard when it's done!
Ready to transform your yard into the backyard escape you've always wanted?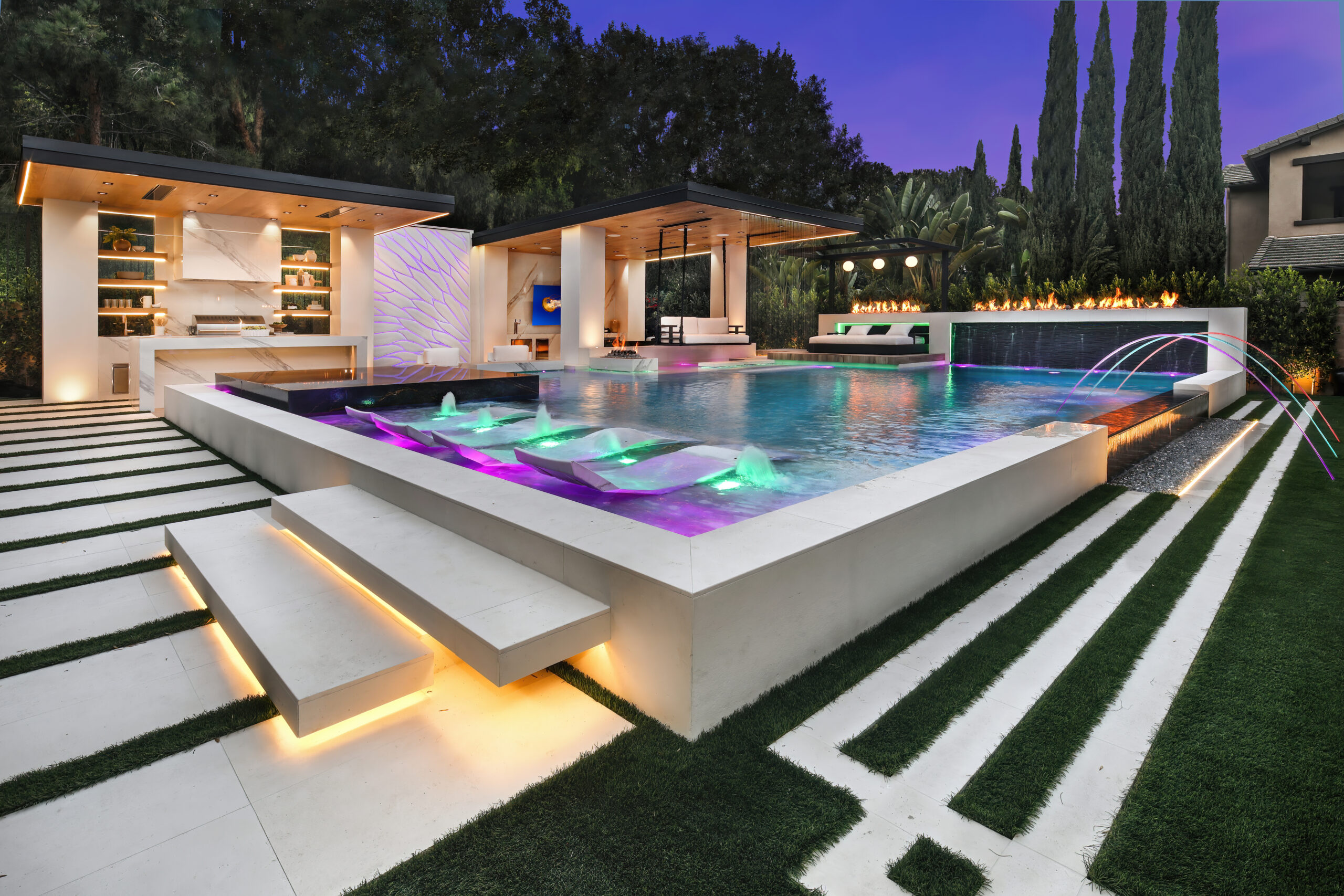 These are just some of the most exciting and entertaining features we've added to our clients' yards. We can't wait to share our latest designs with you—including a Lamborghini pool, a go-kart track around the entire yard, an entire lake you can kayak in, and more. Make sure you're following us on Instagram and YouTube so you're the first to see our latest ideas when we post them.

And, when you're ready to get started on a backyard makeover of you're own, we're here to help!

Click the button below to fill out a design inquiry form and schedule a free consultation call with our team.

We can't wait to come up with an unforgettable design for your exterior space.