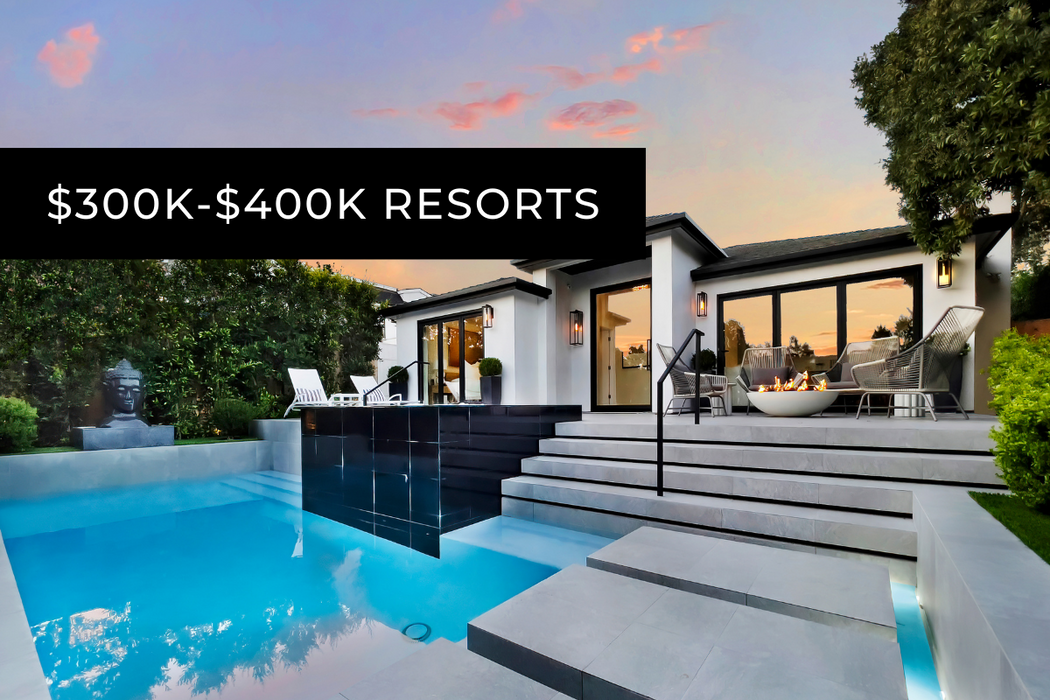 You don't need an unlimited budget to end up with your dream yard and an outdoor space you never want to leave. If your budget is between $300K-$400K, there are countless ways you can save and end up with all the features you want to include in your design. Here are some budget-saving ideas to consider:
OPT FOR A WATER FEATURE
If you want to incorporate 'water' in your yard, but your budget is limited, skip the spa or pool and choose a focal water feature instead. This could be a fountain, a water wall, or some other water feature that gives your space the movement and texture you're looking for without taking up most of your budget.
SKIP THE SUNKEN SEATING AREA
A sunken seating area looks incredible in any outdoor space, but it's also expensive to execute. Instead of investing a huge hunk of your budget into this one element, work with your designer to achieve the 'look' in a more cost-effective way. Play with color and material choice to create the illusion of separate spaces and a cozy area that achieves the same purpose.
TILE INSTEAD OF SLAB
One way we love to advise our clients to save their budget is by selecting tile for their finishes instead of slab. Whether it's for your outdoor kitchen, dining area, or fire feature, using tile achieves a super similar look for a fraction of the cost.
Click the button below for more information about some of our $300-$400K budget designs.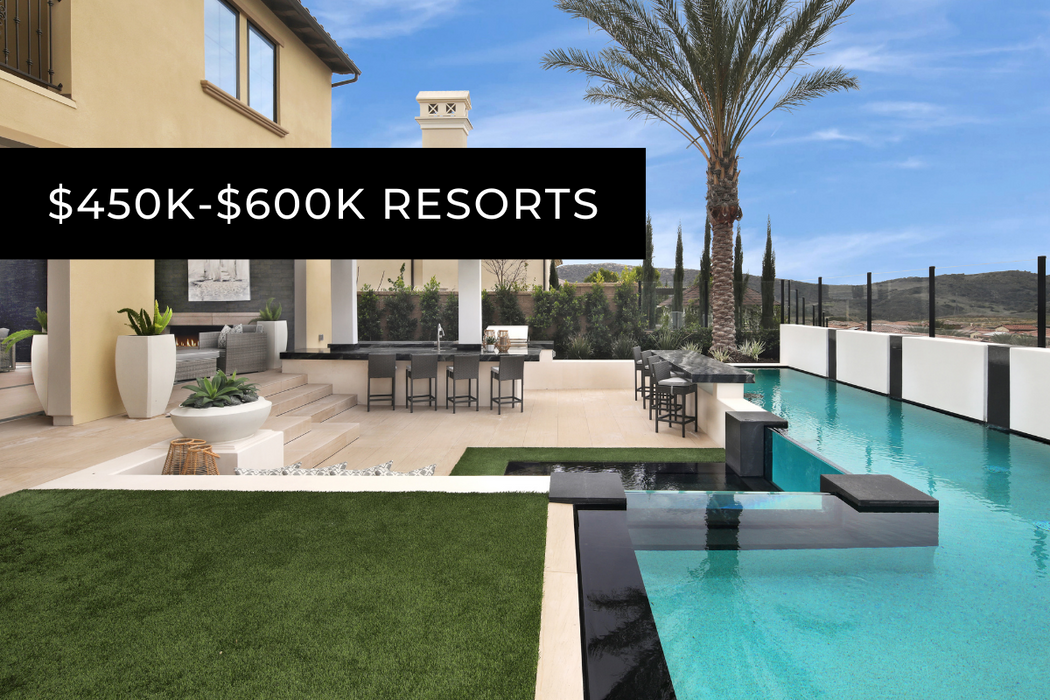 With a budget between $400K-$500K, we get to explore some custom features and stretch our creativity to give our clients a truly high-end yard without a huge budget. Here are some ideas to help you get the most out of your final design when you're working within this price range:
ADD FINISHING TOUCHES TO STANDARD FEATURES
Instead of splurging on big-budget custom features, start with standard fixtures and add custom finishing details instead. This is one thing we recommend to our clients when they really want a custom look, but don't have an unlimited budget.
SKIP THE INFINITY EDGE
An infinity or zero-edge pool is one of our most popular requests from clients, and it can instantly take a yard from standard to unforgettable. But, if you're trying to make the most of your budget, this is a high-priced feature you might want to reconsider. Or, opt for a zero-edge spa instead of a full pool.
PLAY WITH LEVELS
One way to instantly elevate the look of any outdoor space is by adding dimension and levels to the design. This is one thing we always recommend for our clients because it's a cost-effective way to make a yard look seriously luxurious and is a detail that makes a yard feel more like a private resort than your typical backyard.
Click the button below for more information about some of our $450K-$600K budget designs.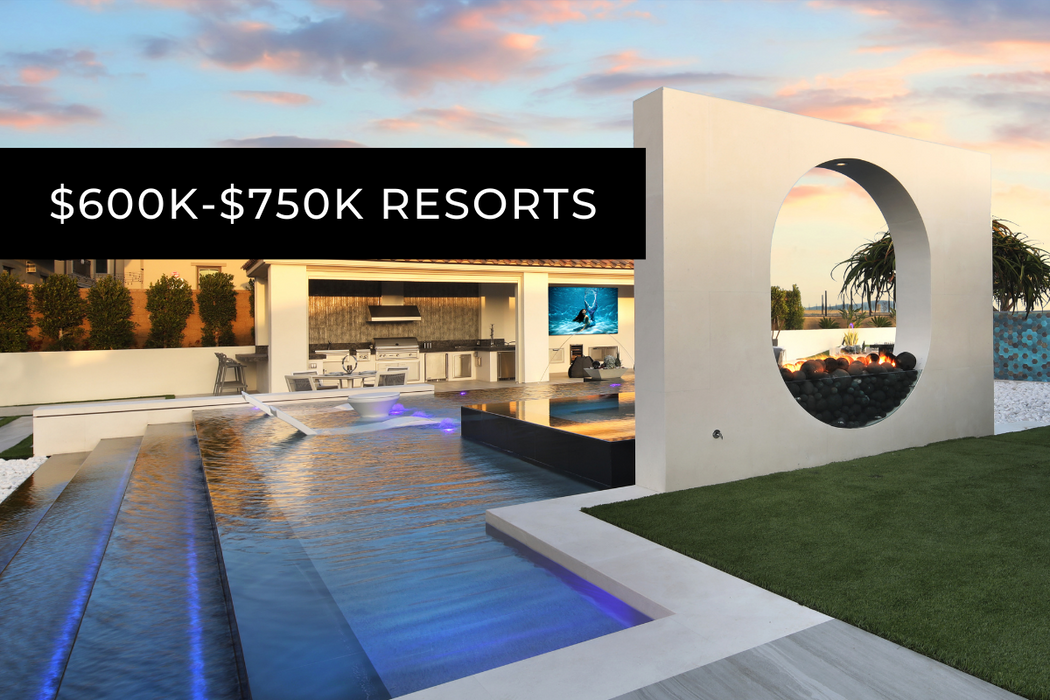 Within this budget range, we really get to explore custom features and fun details that take a yard from standard and boring to 'wow factor' and beyond. Here's a look at how we take our clients' $600K-$750K wishlist and design an unforgettable yard they never want to leave:
THINK DAY & NIGHT
When we're working with a bigger budget, we make sure that our design is as impressive after dark as it is during the day. This means incorporating custom lighting and features that really come to life at night, instead of focusing only on how to create a great experience for our clients when they use their yard during the day.
ADD IN SOME FUN
Not every feature has to be purely functional, and when your budget is $600K-$750K, think about how to add a little fun to your yard. Think putting greens, hidden features, and details that will make you enjoy your time outside even more.
EXPLORE SCALE
When you have a larger budget, you can start to think about going oversized and making a statement with the scale of your design. We love playing with scale and ensuring that our clients end up with a yard that's the envy of the neighborhood and THE place to hang out all summer.
Click the button below for more information about some of our $600-750K budget projects.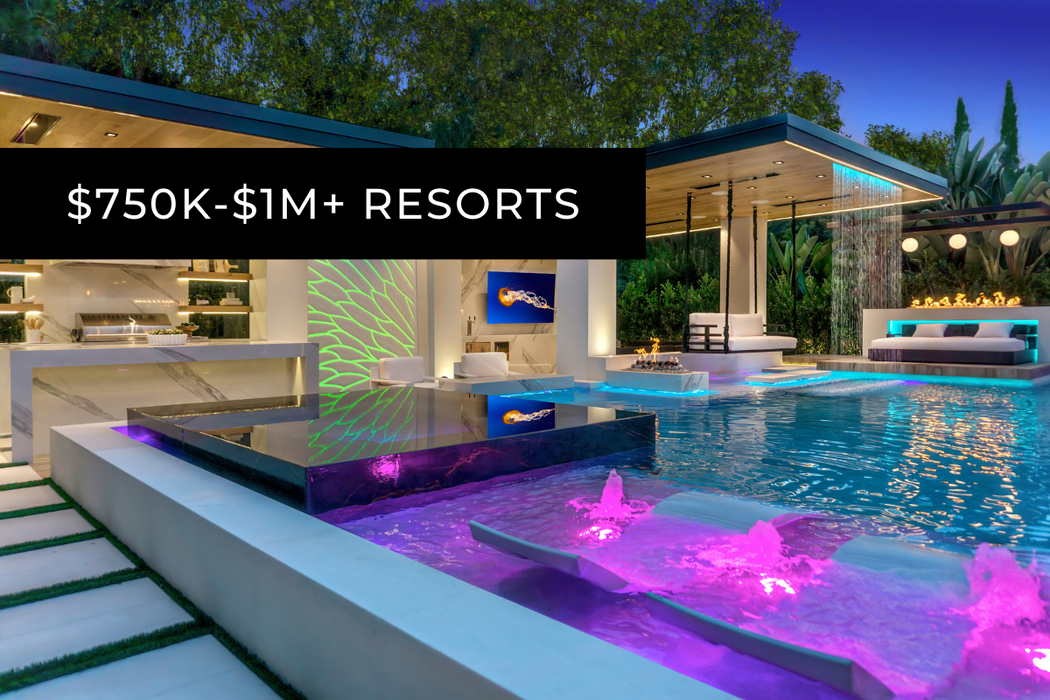 We're able to add some incredible features and really customize an outdoor space when we have a budget within this price range. Keep scrolling to see what's possible with a big budget to spend on your exterior design makeover.
GET CREATIVE
We get to think beyond the traditional features you'd find in a backyard and focus on making your outdoor space a truly luxurious experience when your budget is $750K+. There's no limit to what's possible for your yard and we love exploring the potential in an outdoor space.
EVERY DETAIL MATTERS
The biggest difference between a yard that's $750K+ and a smaller budget is the ability to add luxe details and custom features that, combined, take a backyard from residence to resort. It instantly makes an outdoor space perfect for a getaway and more of an experience every time you step outside.
CRAZY CUSTOMIZATIONS
With a huge—or in some cases unlimited—budget, we can explore customizations that will make your yard truly one-of-a-kind. A pool for your Lamborghini? A private island in the center of a massive lake? A full-on backyard waterpark? The sky is the limit with a $1M+ budget and we love imagining what's possible for a space when we don't have to consider cost when we're getting creative.
Click the button below for a closer look at some of our biggest-budget exterior designs.
Ready to get started on your yard? Get in touch with our team! We're here to help bring your backyard to life so that you can be the talk of the Holidays and the best yard in the neighborhood. Click here to schedule a free consultation call.