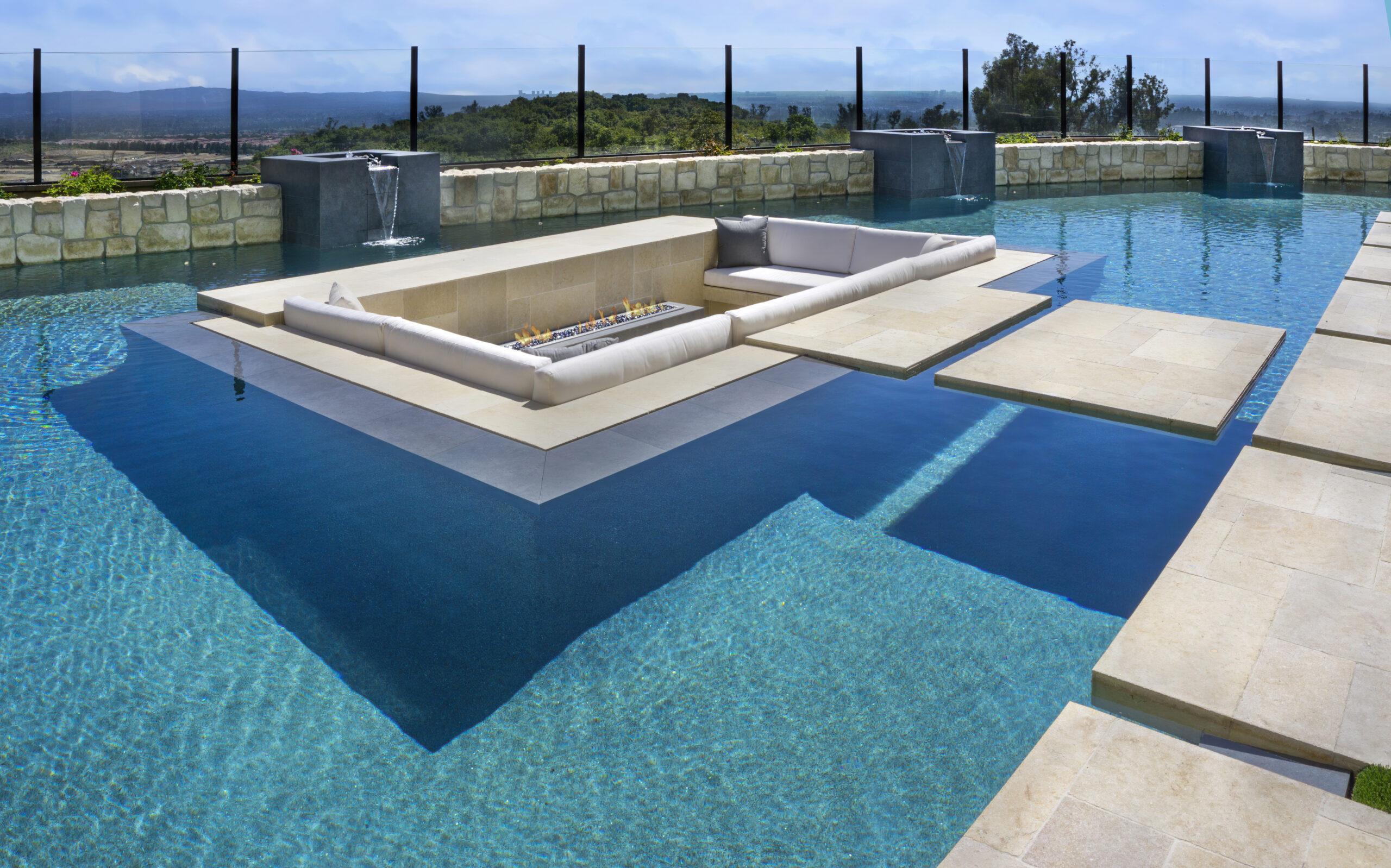 When we're designing a yard, we try to always make sure there's a main focal point from the living spaces. This way, there's always a beautiful view—even when the yard isn't being used. These are some of the other daytime essentials we incorporate into the spaces we create:
Lounge Around

We have added swings of all kinds to our client's yards. For some spaces, they take the form of a hanging bed—perfect for lounging by the pool. In other yards, we've added classic porch-style swings to our patios. And in some yards, we include rope swings that not only add rustic, natural material to the space, but are also tons of fun to enjoy. There are endless ways to add swings to a backyard space, and they are one of our all-time favorite elements to incorporate into a landscape design.
 Privacy, Please

During peak daylight hours, privacy is more of an issue than in the evening. If you're planning to enjoy an afternoon poolside, or your morning coffee on the patio, considering how to promote privacy in your space is essential. The good news is, there are endless ways to make a space feel more secluded and to block out the view of your neighbors. We love helping our clients prioritize privacy in our designs. You can use greenery and shrubs to create lush walls that give you total privacy from your next-door neighbor. You can install a water wall or other feature that separates your space from the next lot. Or, you can add canopies and other barriers to your deck areas and feel like you're completely in your own world, even if you have neighbors nearby.
 Shaded Spaces

One of the best ways to gain daytime functionality is to make sure there are enough shaded areas for whatever weather may come. Even in full, intense sun, on a rainy day, or when the weather is just not cooperating, you can make use of your exterior space. We've imported massive trees to provide natural cover from the sun. We've added seating nooks under covered patios. And, we've incorporated fully covered, outdoor living areas into our client's designs for this very reason. Even if you don't live in a sunny climate, making your space weather-ready with lots of covered areas is so important to utilize your yard day or night.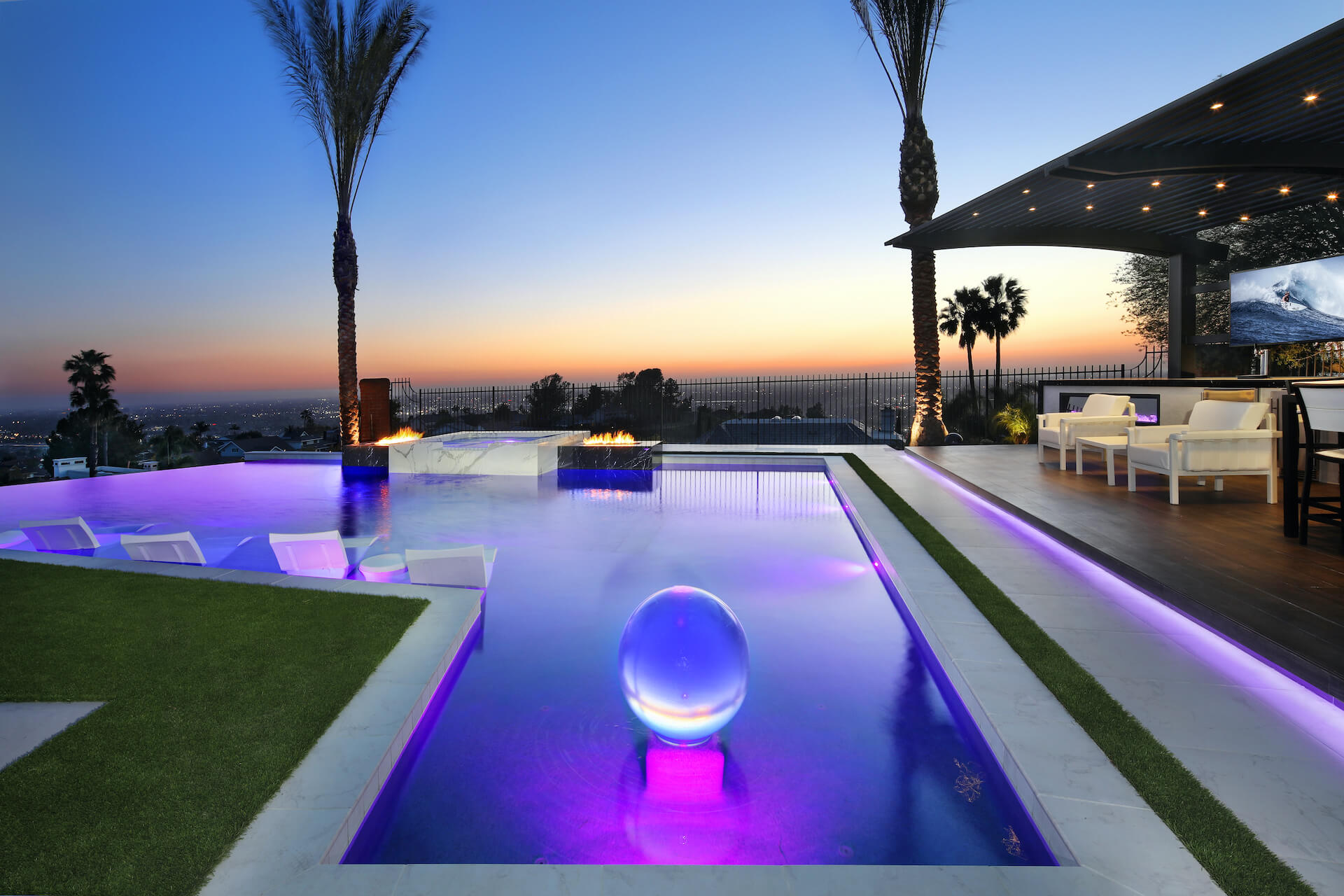 As the sun starts to set, you don't need to head indoors if your yard is designed to light up the night. We want our clients to be able to use their space and transition from afternoon barbeques to dinner parties and late-night swims, which is why we make sure that every design emphasizes lighting. We incorporate a variety of different types of light that highlight all the yard's focal features—so they can be fully appreciated in the evening.

Some of our favorite concepts to include are underwater lights, unexpected shapes and placement, colors, floating globes, twinkling accents, and lights that add depth and dimension to the space. Here are some of the other things that make a space perfect for evening entertaining:
Ample Entertainment

Evening is the perfect time to make use of an action-packed backyard. For many of our clients, we try to incorporate as many entertainment spaces as possible. This often includes sports courts, game tables, turf areas for lawn games, and more. Many of our clients also want to make space for low-key lunging after dark with areas to entertain friends and family for movie night or to watch their favorite team on TV. Some of our favorite yards that are incredible in the day and at night feature outdoor family rooms, massive TVs, or projector screens that allow our clients to have everyone over for a cozy evening under the stars.
Light A Fire

To keep warm in the evening, a fire pit is key. They're one of our most requested features and a staple in any space you plan to spend time in after dark. And, the incredible thing about adding fire features to a backyard design, is that there are so many ways to bring them to light. We've designed small fire pits that make for cozy conversation areas, massive sunken fire pit lounges, and fire-focused elements that add shadow and depth to a yard. Fire elements, in some capacity, are a must to utilize yards after dark.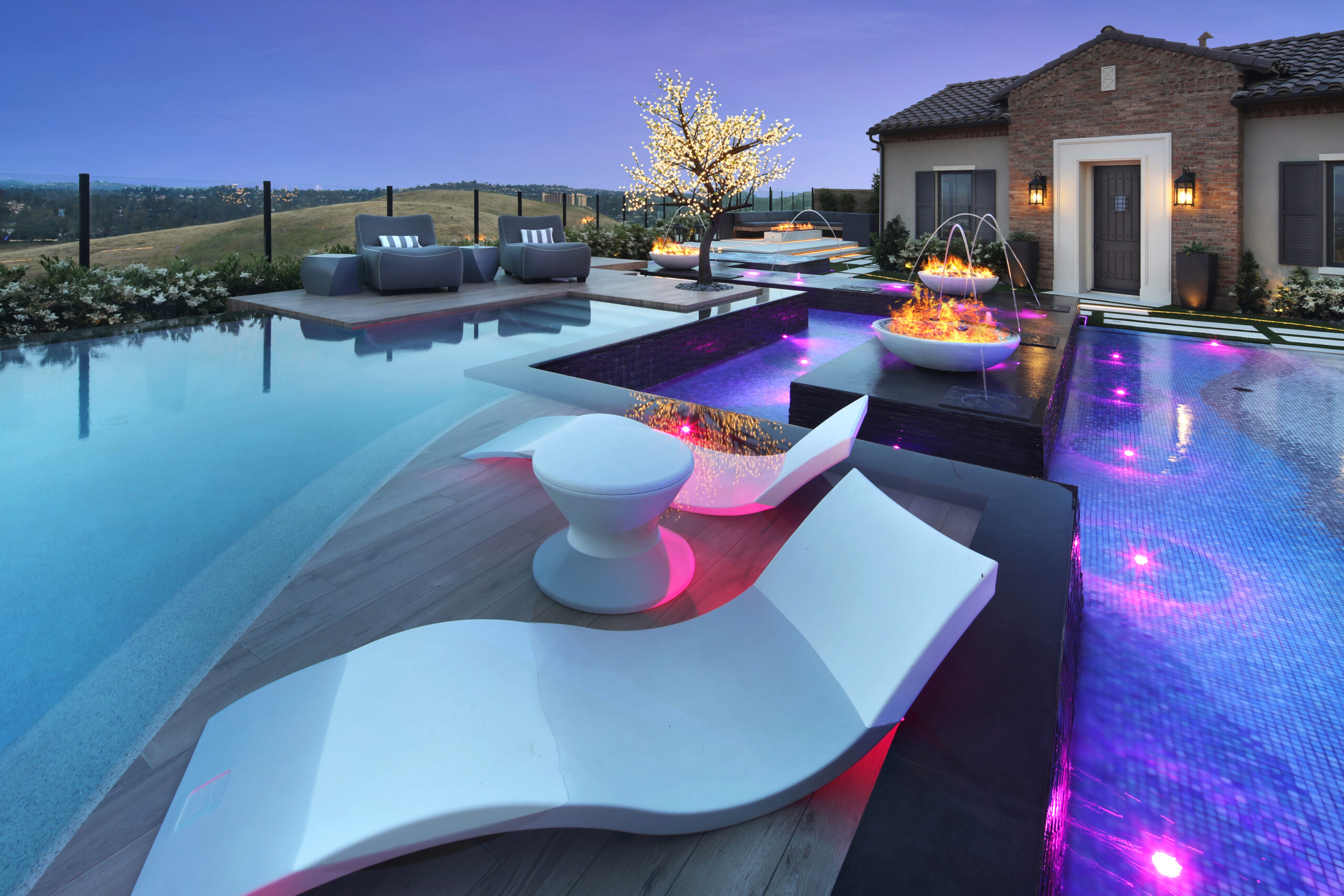 FOXTERRA'S FAVORITE DAY-TO-NIGHT DESIGNS
One design that truly embodies the day-to-night lifestyle we try to achieve for our clients is a project we've been working on that embodies everything you'd want in a backyard resort during the day as well as everything that brings it to life at night.


We have had so much fun coming up with creative ways to utilize the space and got to incorporate everything we mentioned above—and more.
For this client, entertainment is essential, so there's space to play. We designed sport courts, a putting green, and as many outdoor activity areas as we could fit on this lot. We made sure to include plenty of shaded patio space, covered daybeds, and extensive patio structures so our clients can cool off when it's too hot and still enjoy their space if it's raining. And, we were even able to make space for a flower and vegetable garden, where our clients can spend time enjoying the natural beauty of their yard.
There's a plunge pool that can be utilized day or night, thanks to the lighting, a sunken fire pit that's perfect to warm things up on a crisp evening, an outdoor shower space to rinse off after taking a dip, and more.
Whether you want your yard to include it all—like the one we've been working on for our clients, or you just want to incorporate a few of these day-to-night essential features in your space, we're here to help. Click here to book a free consultation call to talk about your project.
Sign up for the Foxterra Design newsletter for weekly design inspiration, the latest exterior trends, and resources to help you create a yard you never want to leave.