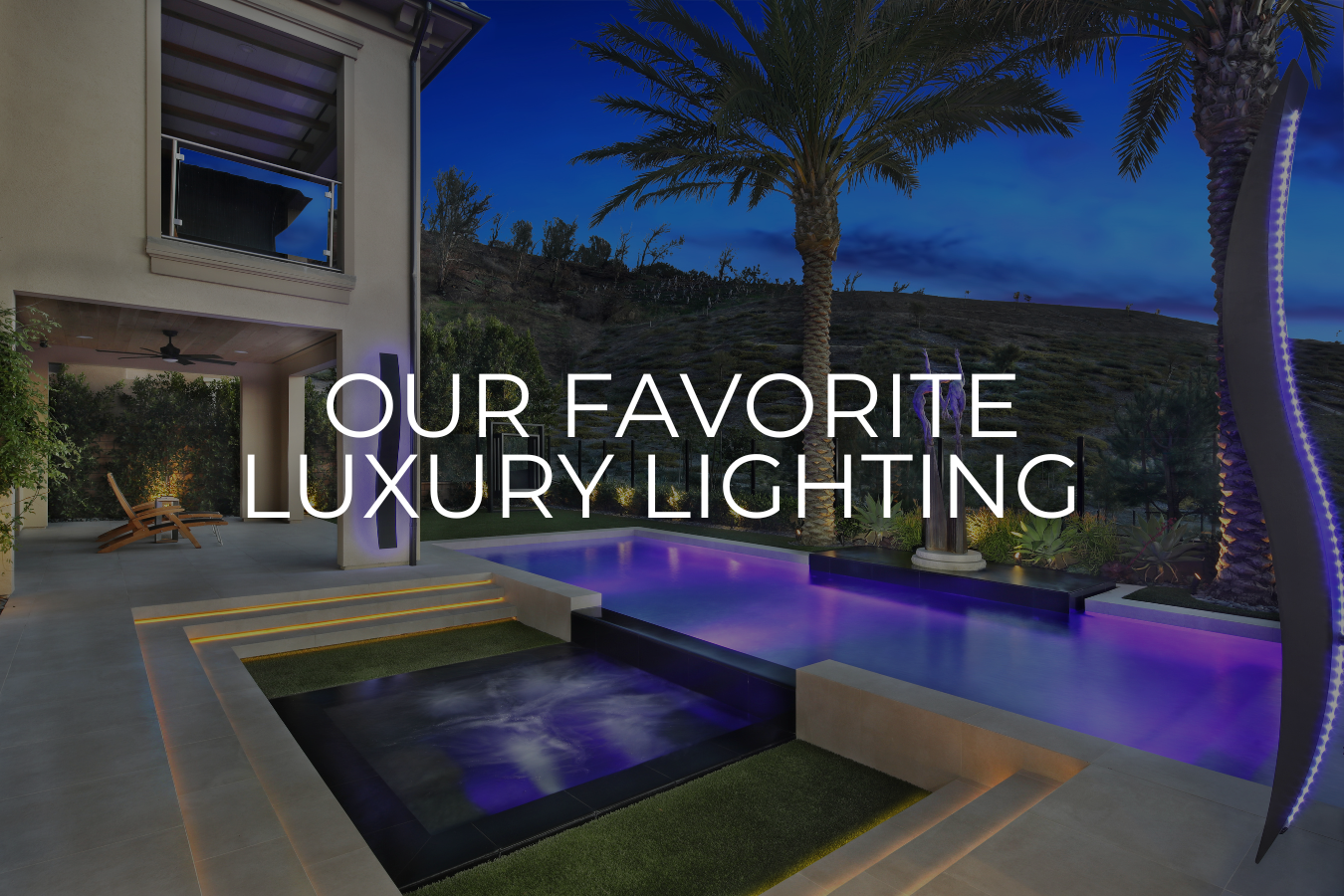 Why Lighting Matters
Lighting might seem like an afterthought when it comes to creating a luxury exterior design when you are including features like an infinity edge spa, custom pool, or sunken seating area. But, lighting is the single most effective way to take your yard to the next level.

LIGHTING GIVES YOU MORE OUTDOOR TIME
Its ability to transform a space and set the mood for your backyard resort is unmatched. Plus, a lighting design allows you to enjoy your yard after dark, not just during the day. Lighting extends the amount of time you can spend in your outdoor space, which is why lighting is key to any exterior transformation.

LIGHTING SETS THE MOOD
Want drama? A cozy corner in your outdoor space? A bold, modern entertainment zone?

The best way to set the tone for your space is by considering the lighting.

It can change the mood in your space and add drama in a way that's just not possible with daylight. Whether it's with fire elements, colorful accents, or soft and cozy glow, you can instantly change up the vibe in your entire yard with lighting.

LIGHTING DEFINES YOUR SPACE
We love to use LED light strips to define spaces and accent architectural features in a yard. Lighting can help create the illusion of additional space when used underneath floating elements in a small yard. It can also be used to draw your eye to the most exciting features in your yard.
Our Favorite Lighting Designs
Here's a look at some of our favorite lighting designs, lighting elements, and private resorts that pop thanks to their lighting.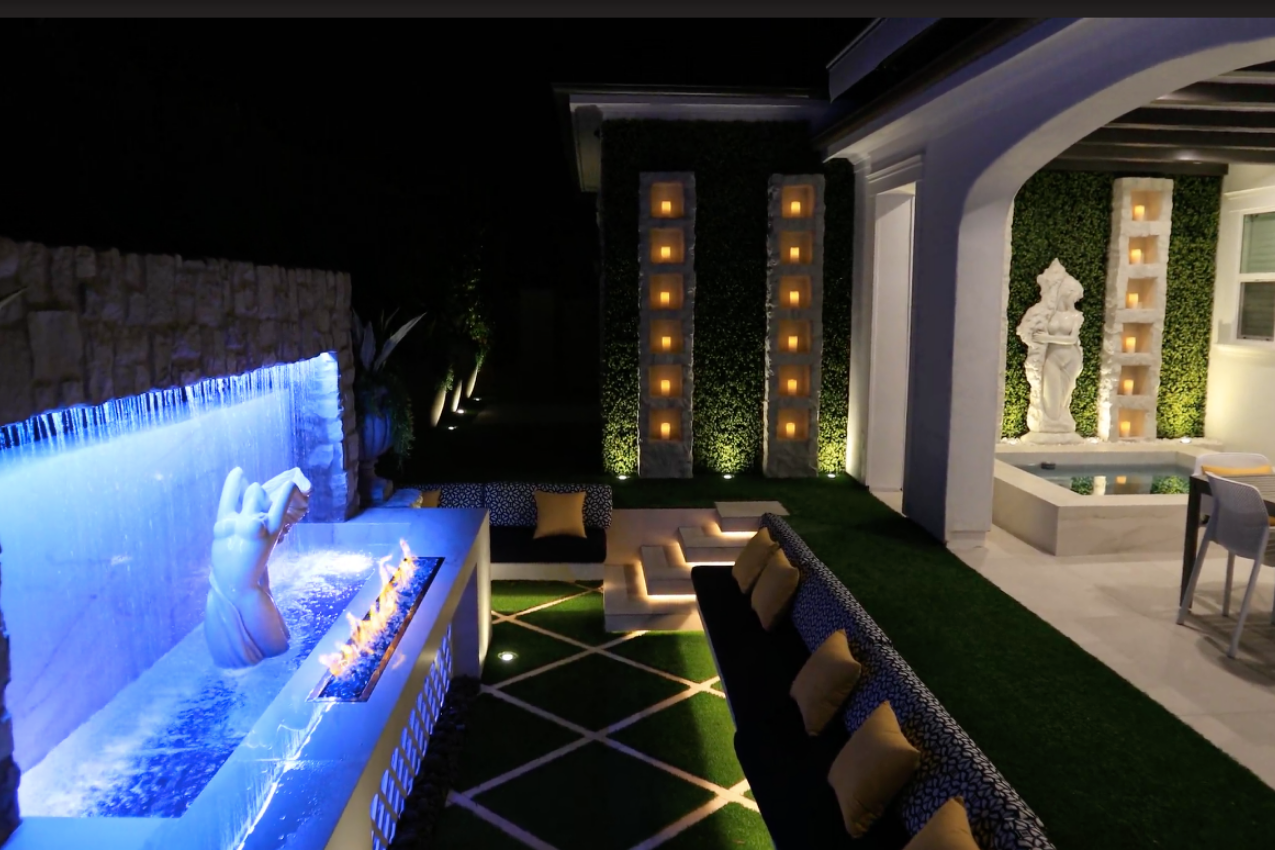 We don't know which part of this lighting design is most impressive…because the entire space is one of our favorites after dark.

The colorful, custom fountain is an absolute standout in this space and is giving serious Caesar's Palace vibes.

But, equally as impressive, is the candle wall that looks and feels like real candles but is actually made using LED candles that are remote-controlled. It transforms the space from tiny backyard to a Roman bath-inspired spa.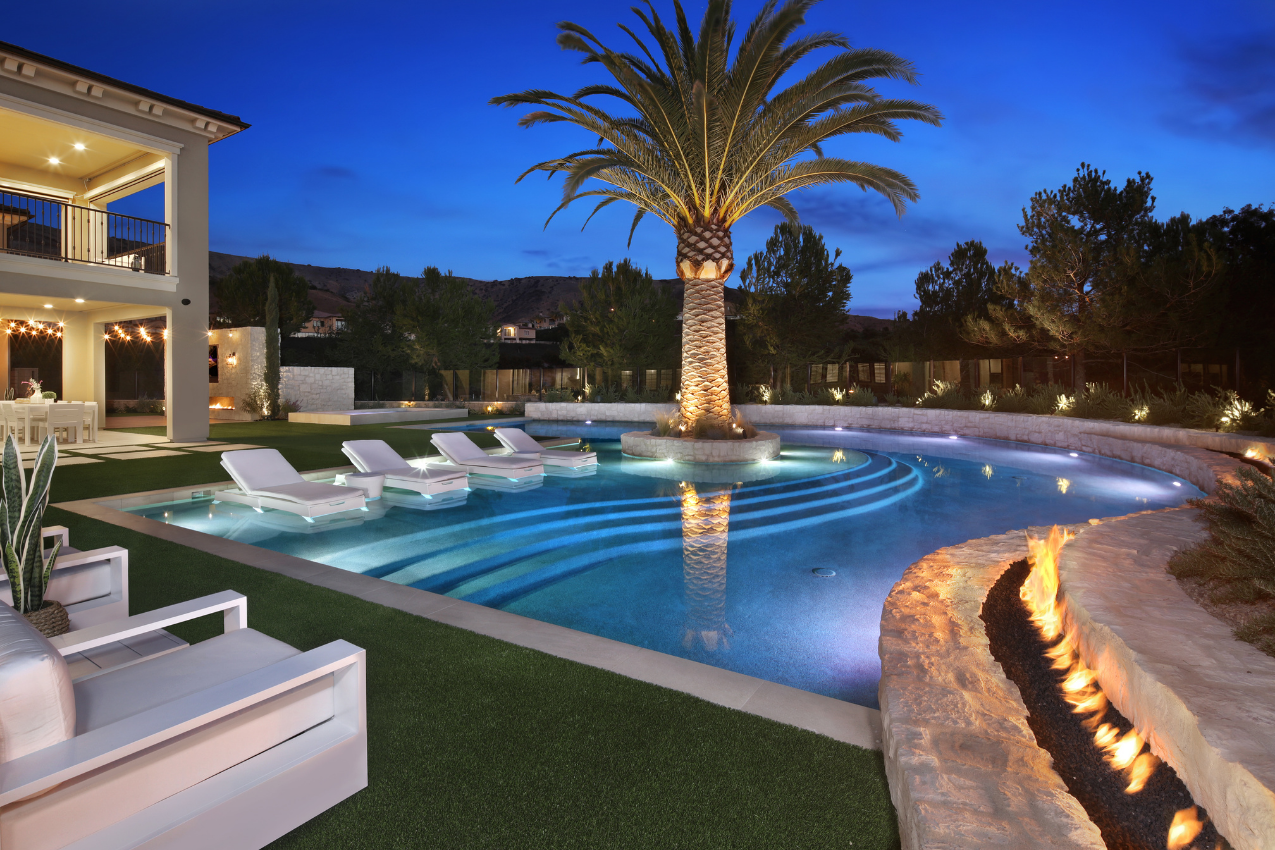 This sprawling backyard beach is minimal in design, but the sheer size of the outdoor space is breathtaking.
At first glance, the pool is impressive, but after dark it really comes to life thanks to the lighting we used to highlight the different levels in the space.

Plus, the entire yard is accented by one of the largest fire features we've ever designed. These two lighting elements combine to make this exterior absolutely unforgettable at night.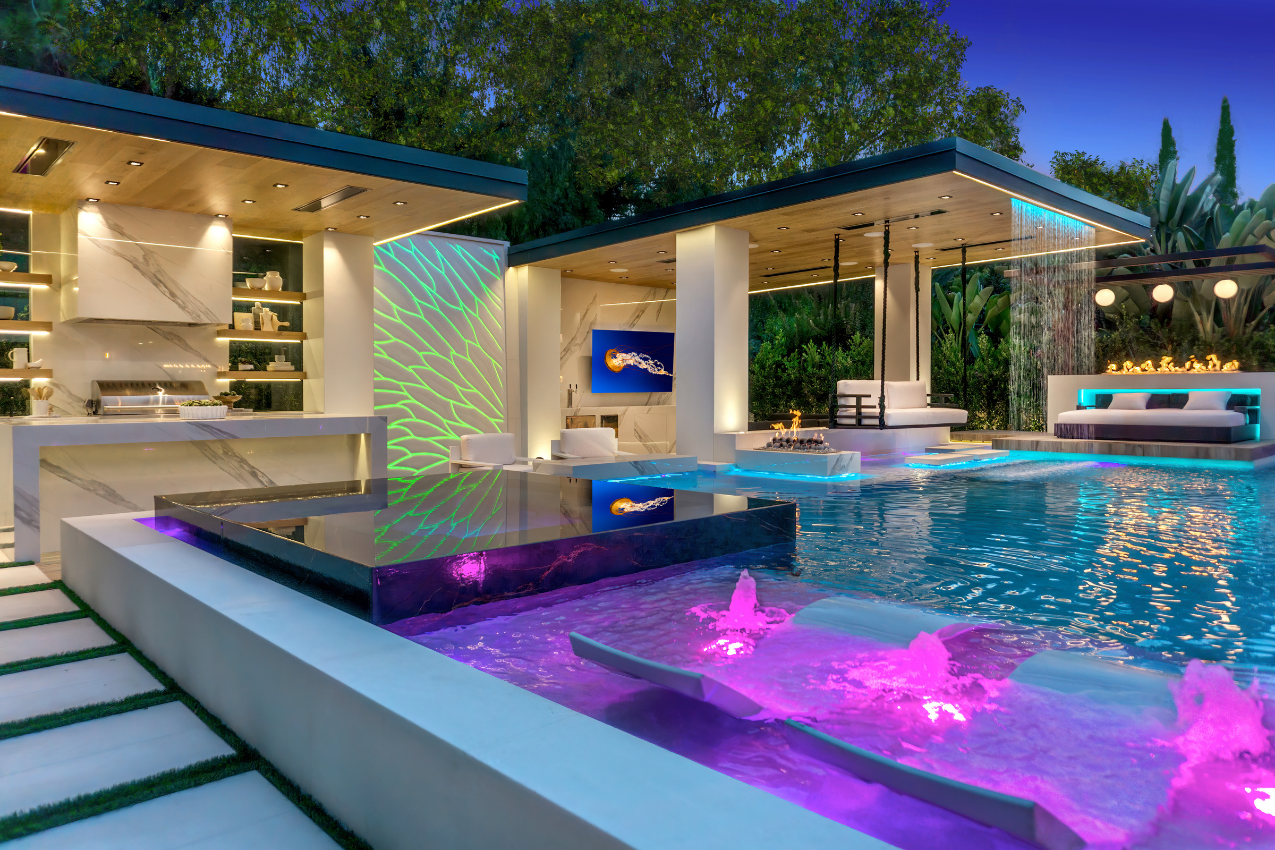 This $1 million yard takes lighting to a whole new level.

Not only is there an incredible opportunity to create whatever mood you're looking for in the space by changing the LED light colors, but we used lighting in an artistic way that's seriously unique to this space.

We had a custom LED light art panel created for our client's wall and it is one of the most incredible ways we've ever used lighting in an outdoor space to date.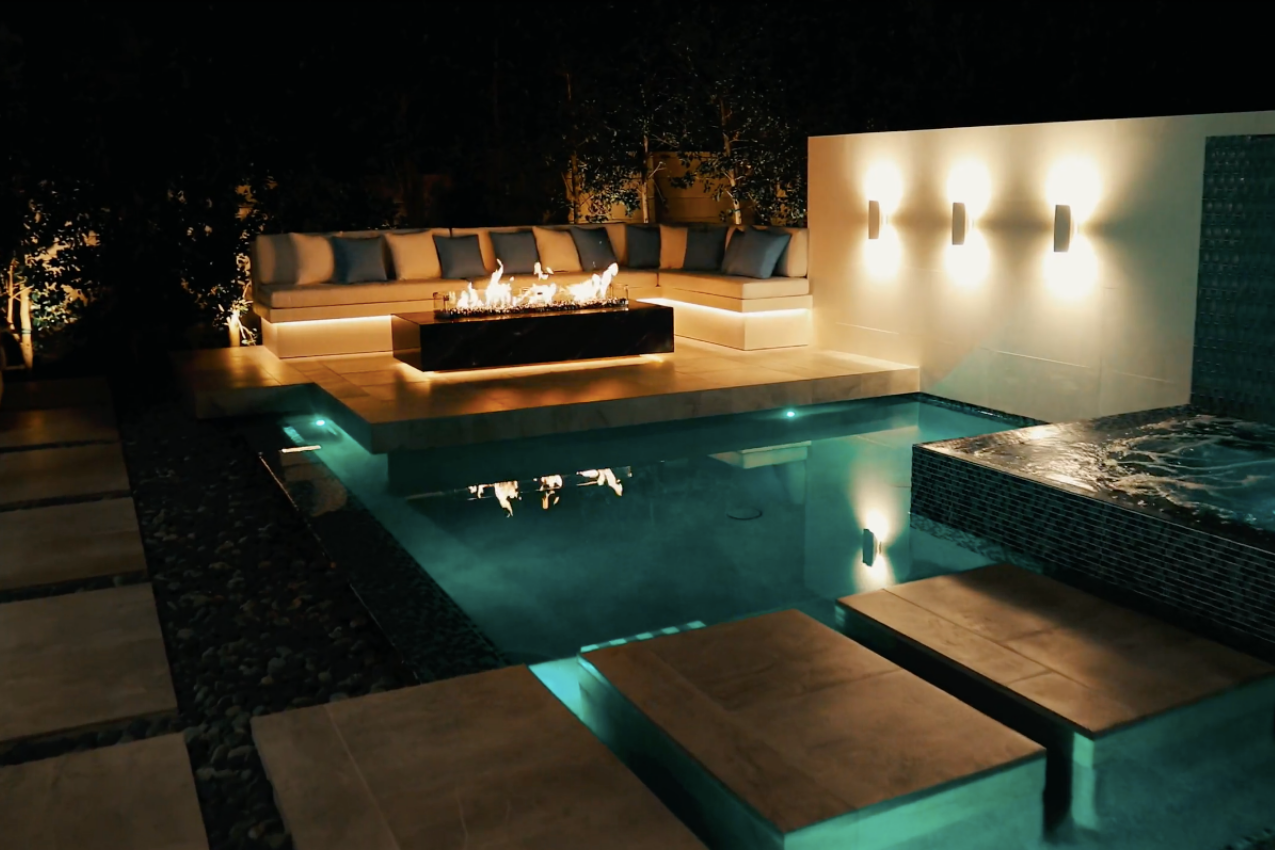 This dreamy backyard spa is even more relaxing at night than it is during the day thanks to the soft glow of ambient lighting we incorporated into the design.

It makes for a serene retreat and the perfect place to cozy up and unwind after a long week.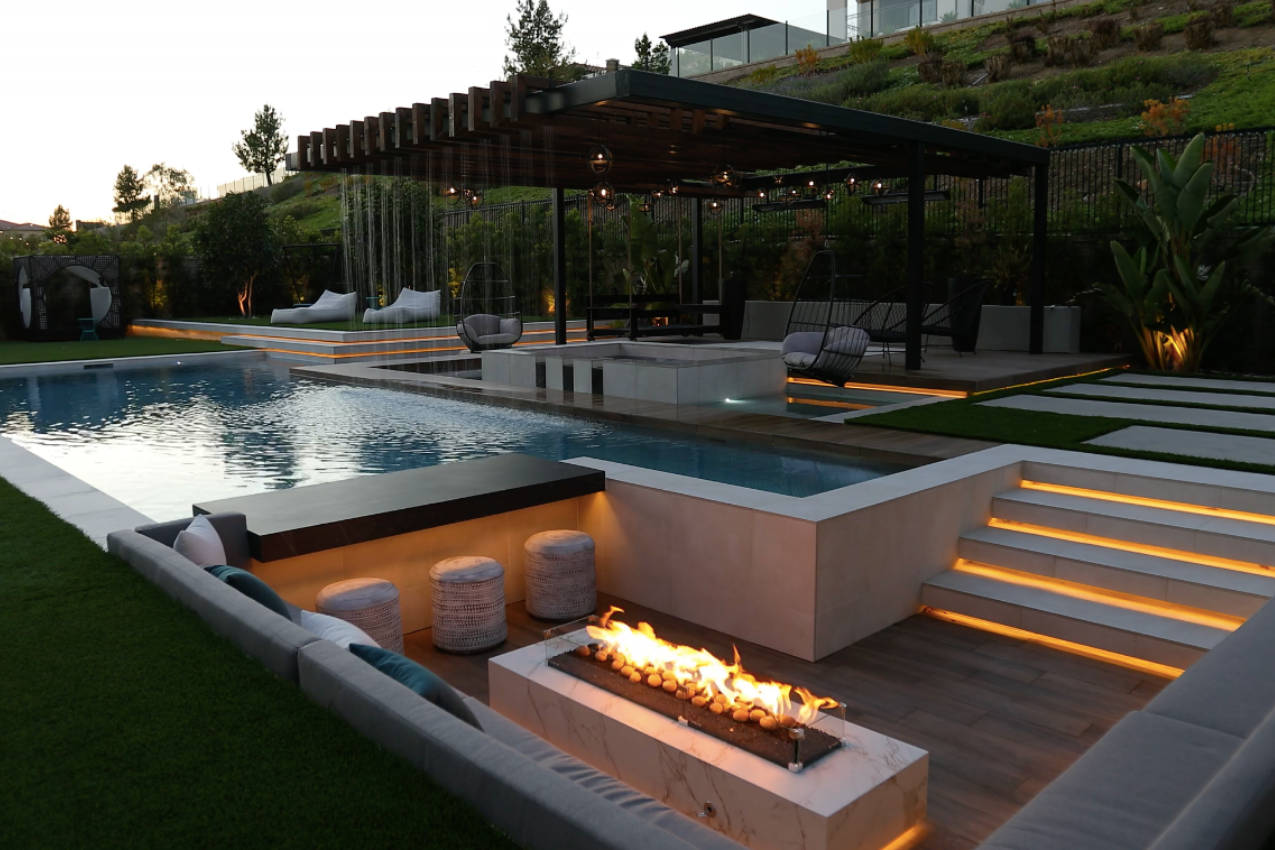 This Bali-inspired yard is as incredible after dark as it is during the day thanks to lighting.

The sunken fire pit and seating area is one of the standout elements that makes this yard so unforgettable, but the space has tons of drama thanks to the LED strip lighting we utilized to accentuate the levels in this yard.

We also added twinkling bistro lights to the patio cover to add a cozy mood to the seating area at night and accent lighting throughout the entire yard that makes it a space you want to spend all your time in—whether it's day or night.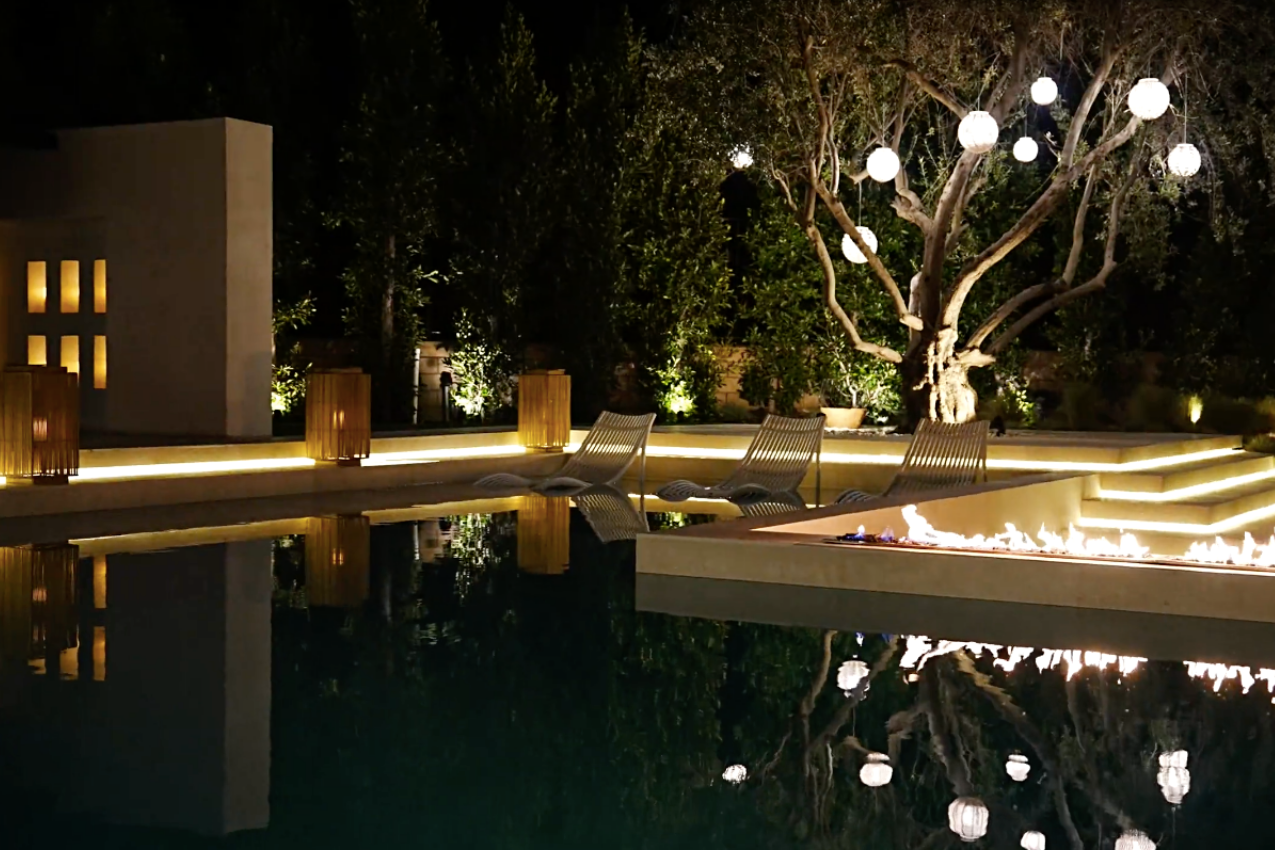 We just might like this Santorini-inspired private resort better after dark than we do during the day.

We made sure to add LED strips to highlight all the important architectural elements in the yard, but there are two stand-out lighting moments we can't get over.

First, are the hanging globes we added to this gorgeous olive tree. They reflect off the water to create this fairy-tale magic that makes the space so incredibly inviting.

And, second, is the candle wall we created in the hidden spa. It gives Roman bathhouse vibes and makes for a seriously serene spa experience.
BONUS
Watch the video below for three expert lighting tips from Foxterra founder Justin Fox 👇
SCROLL THROUGH THE GALLERY

Here's a look at all the details & a gallery of images from this space.
SCROLL THROUGH THE GALLERY
Scroll through this lighting gallery for even more design inspiration.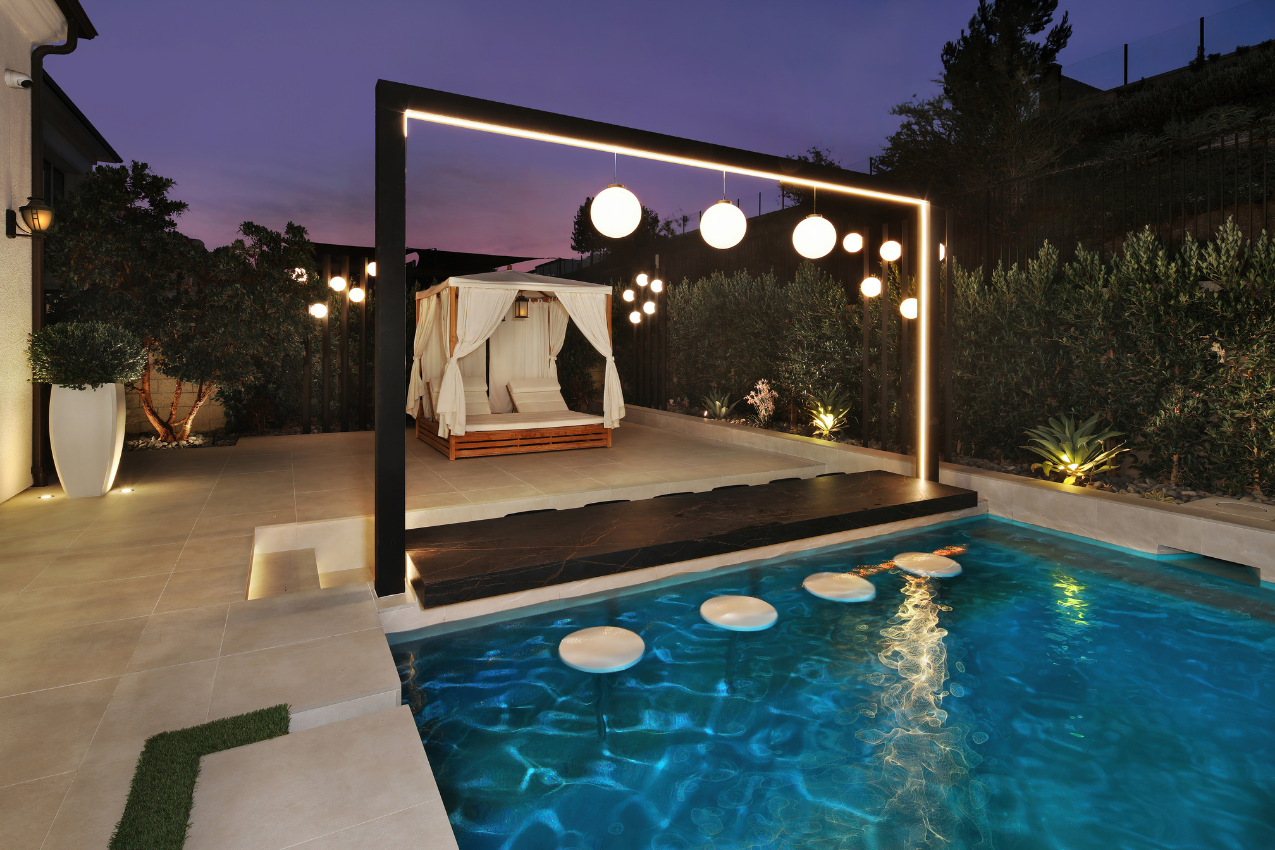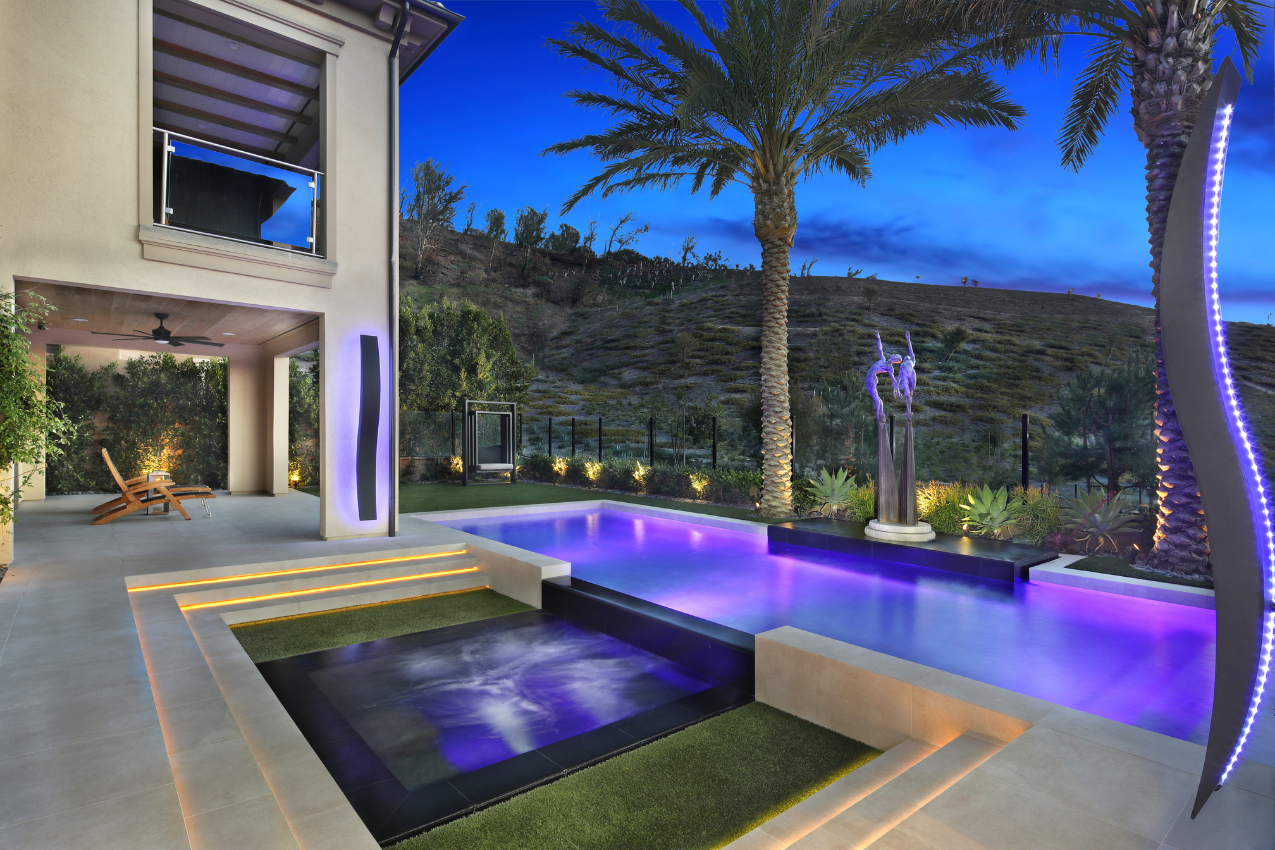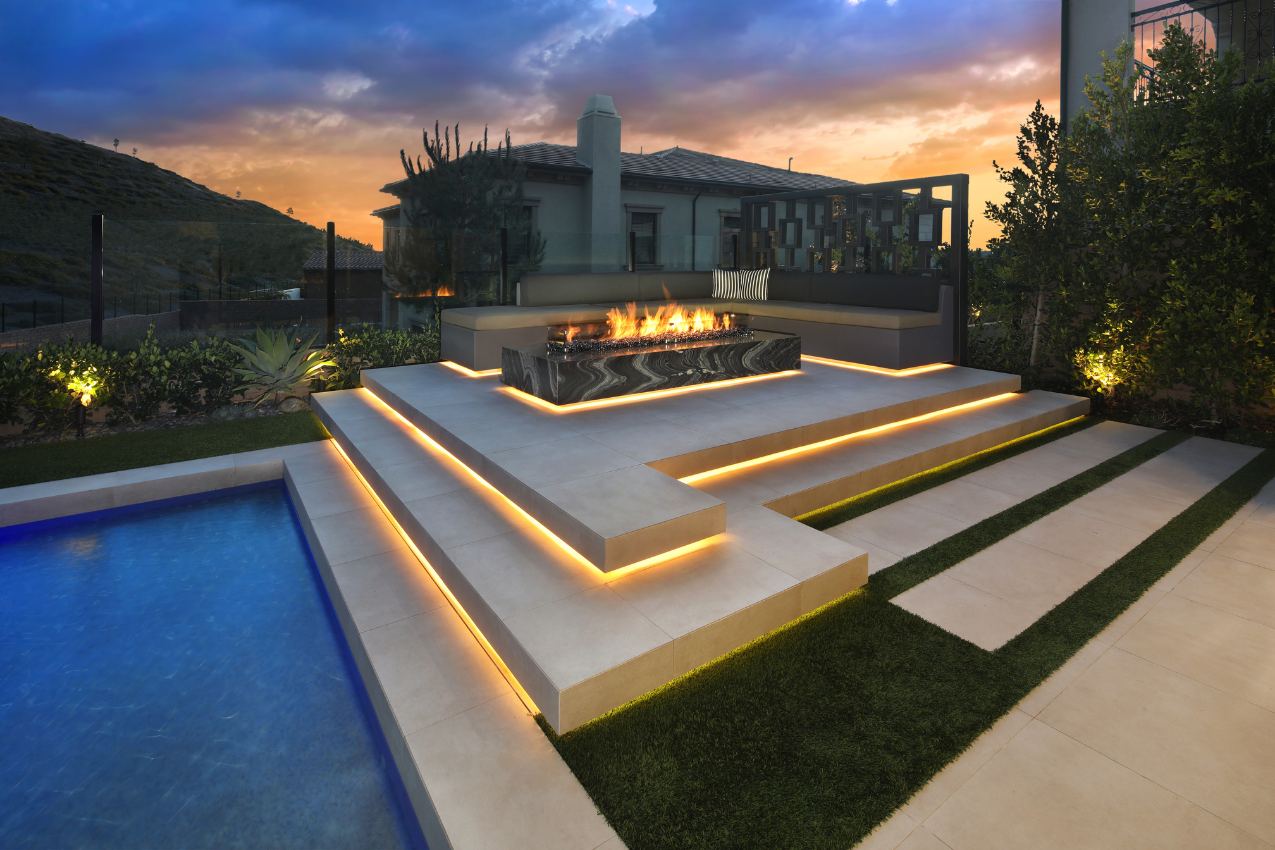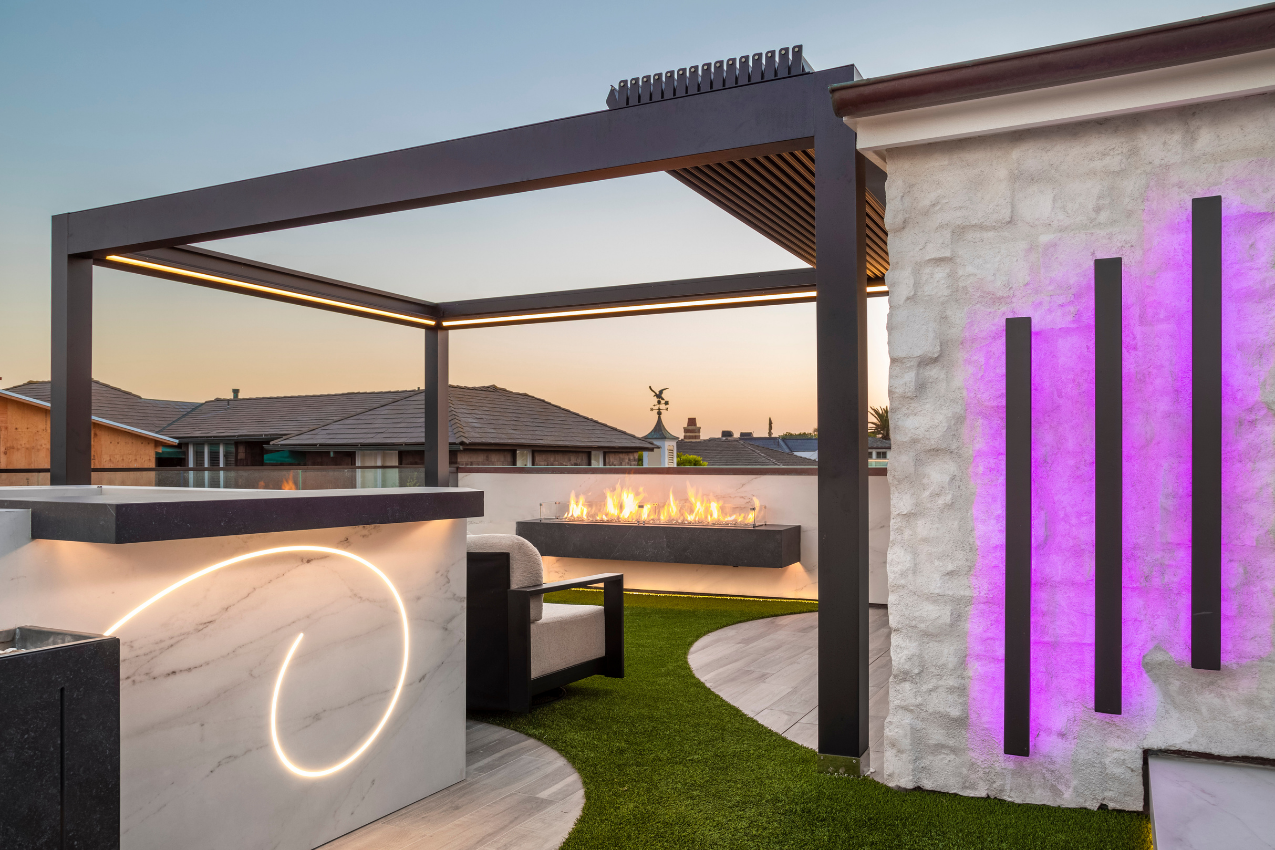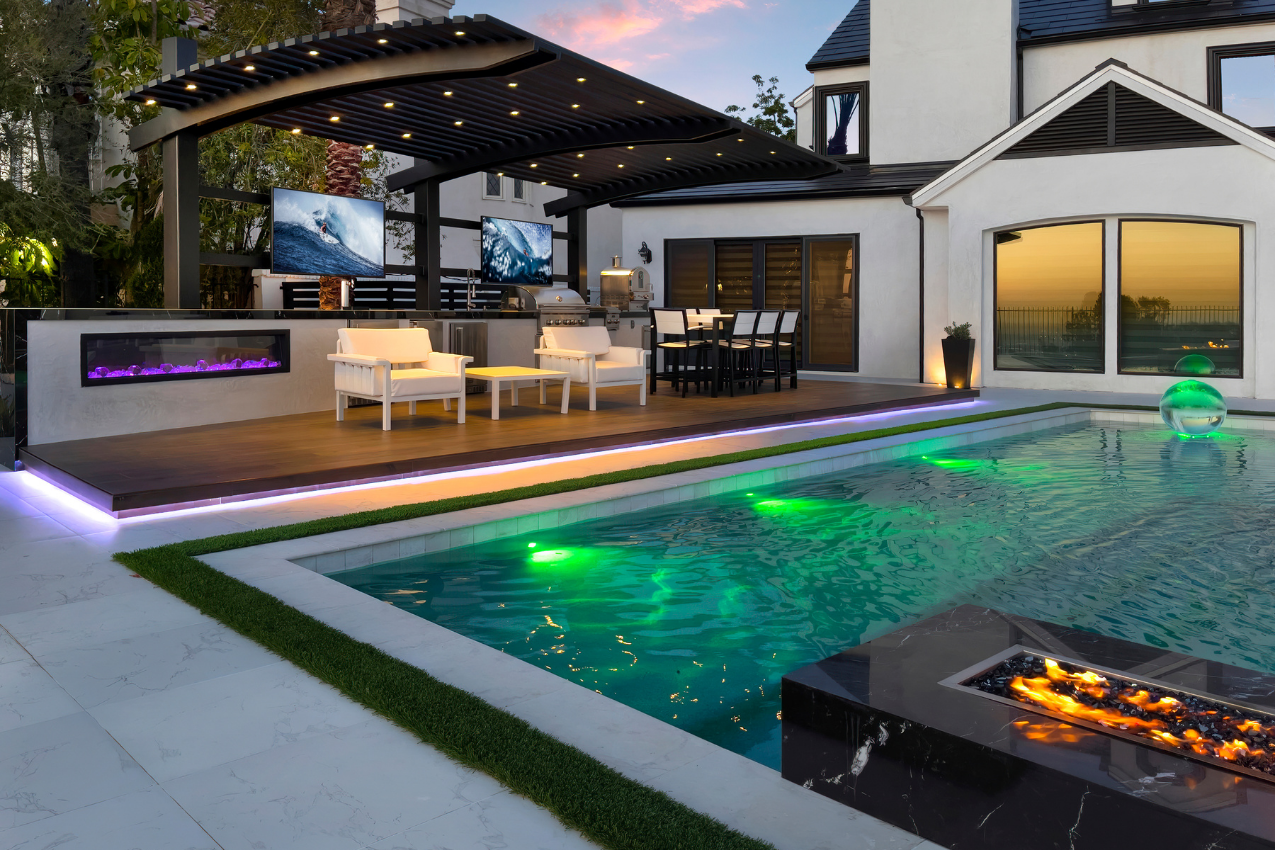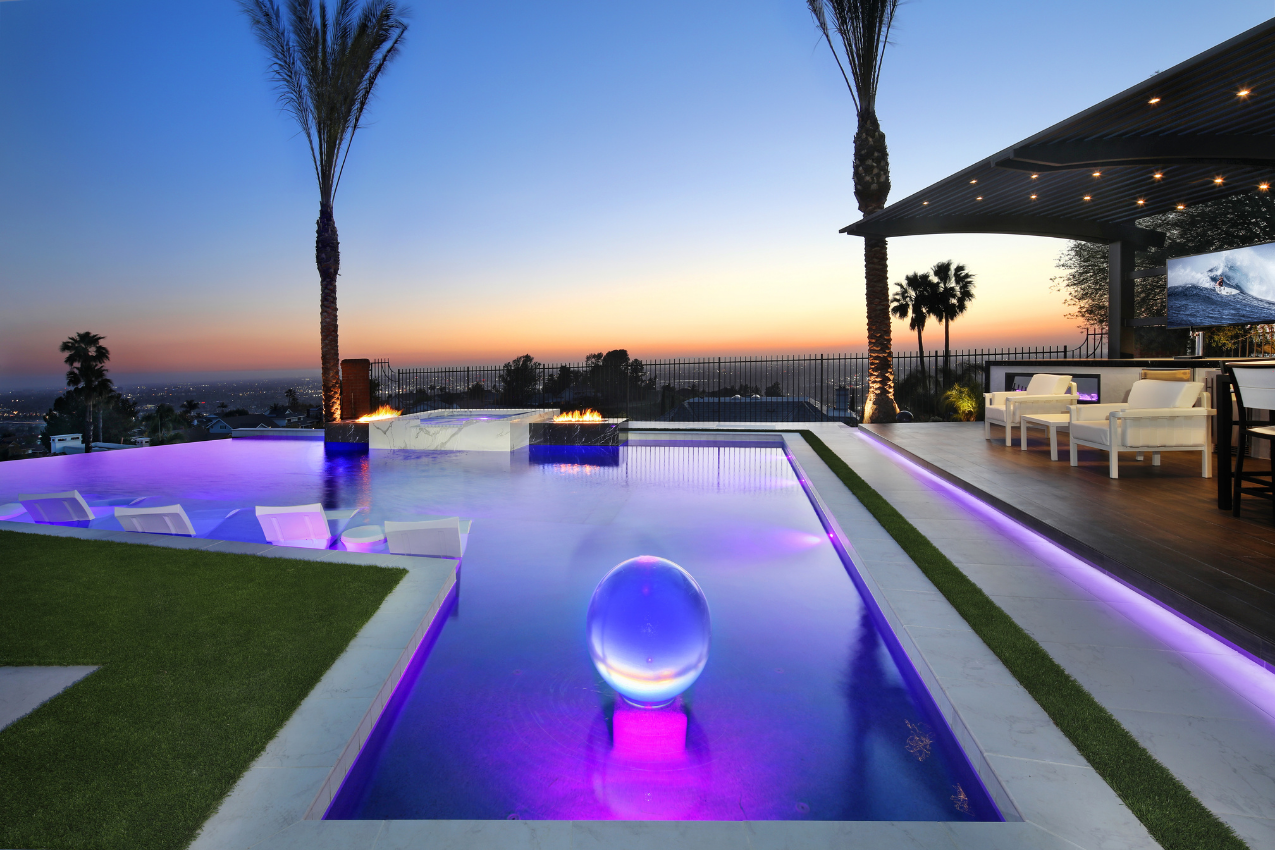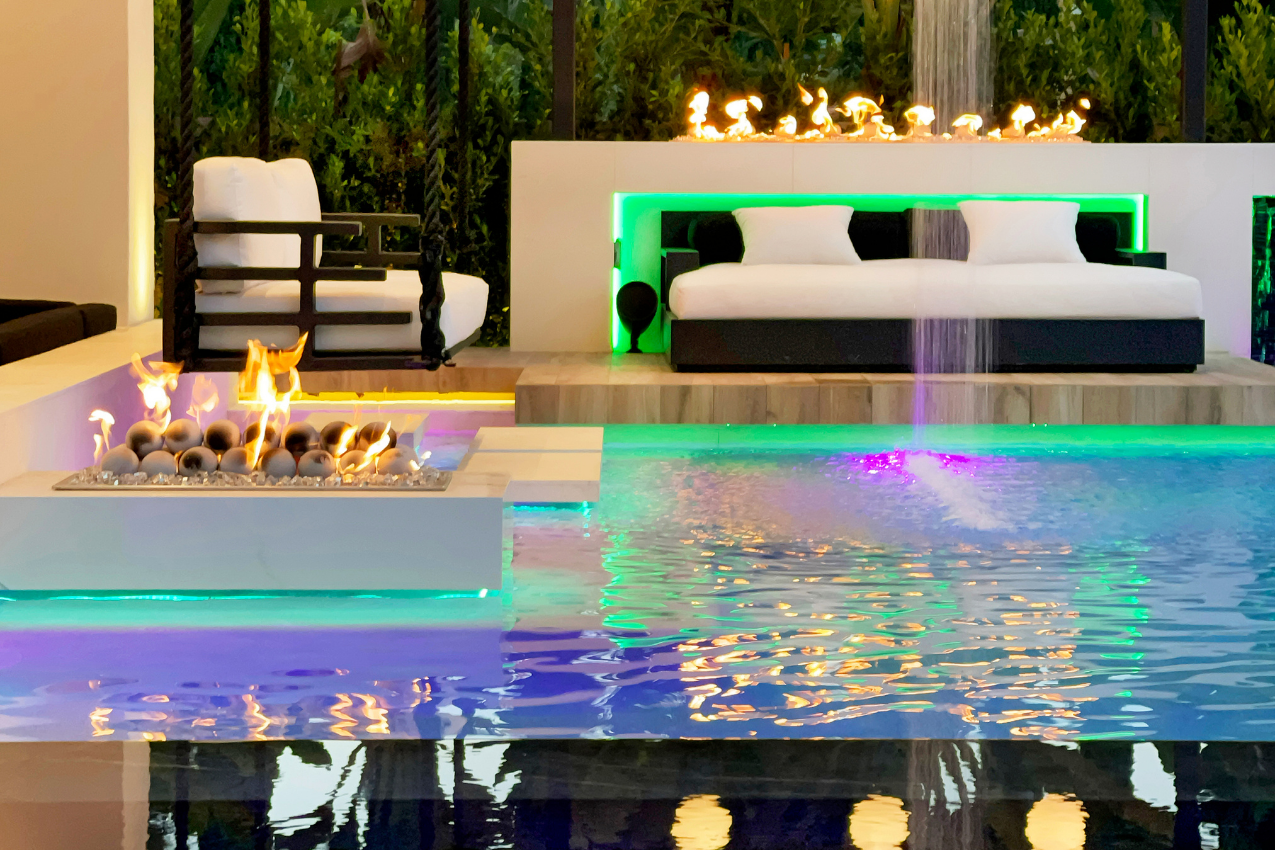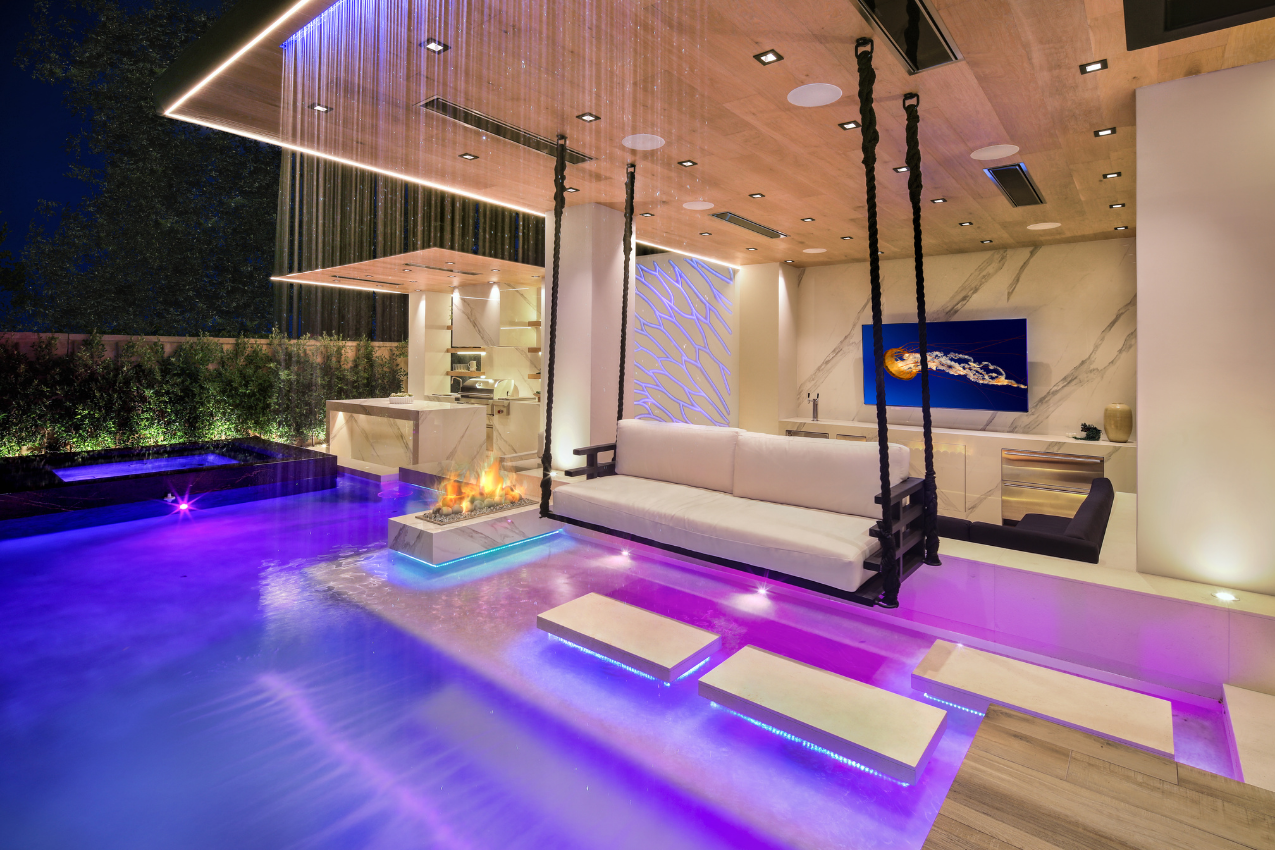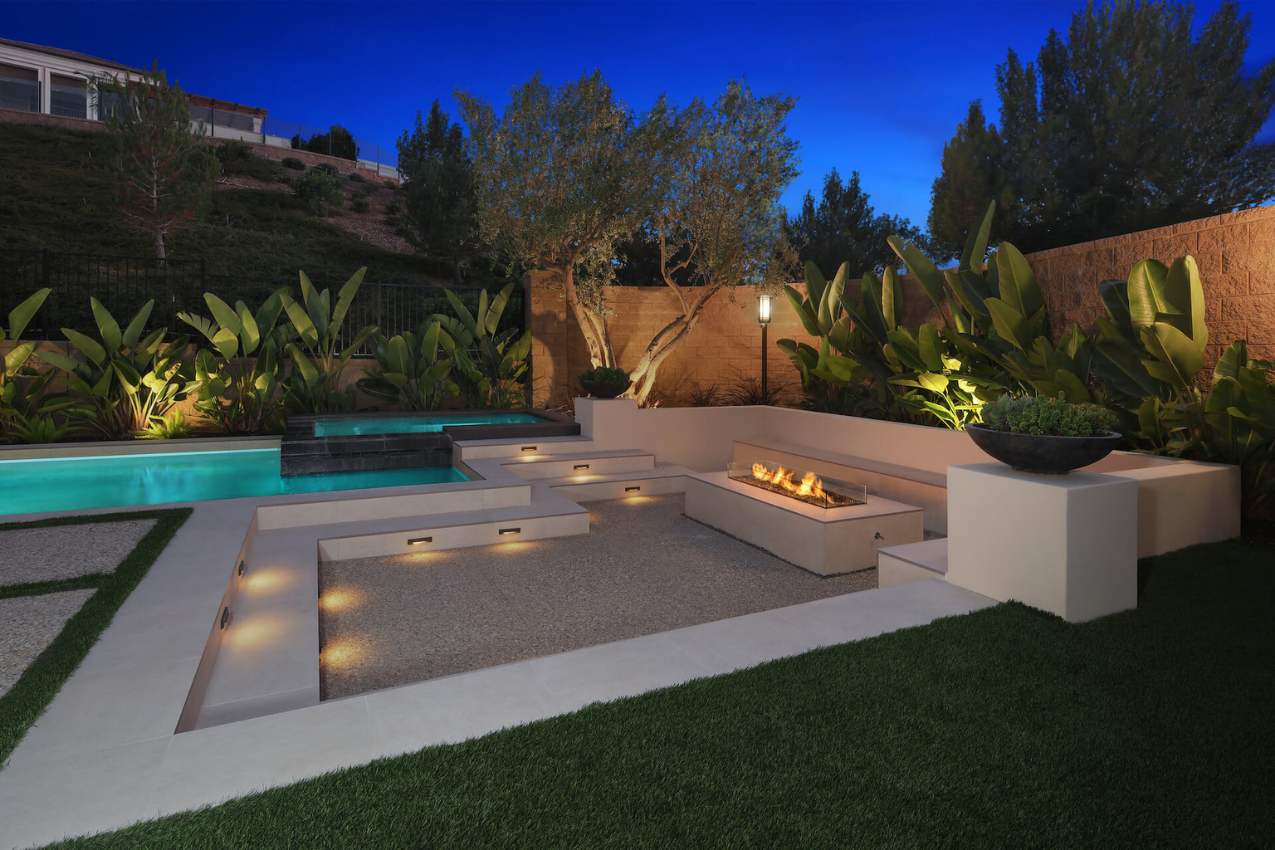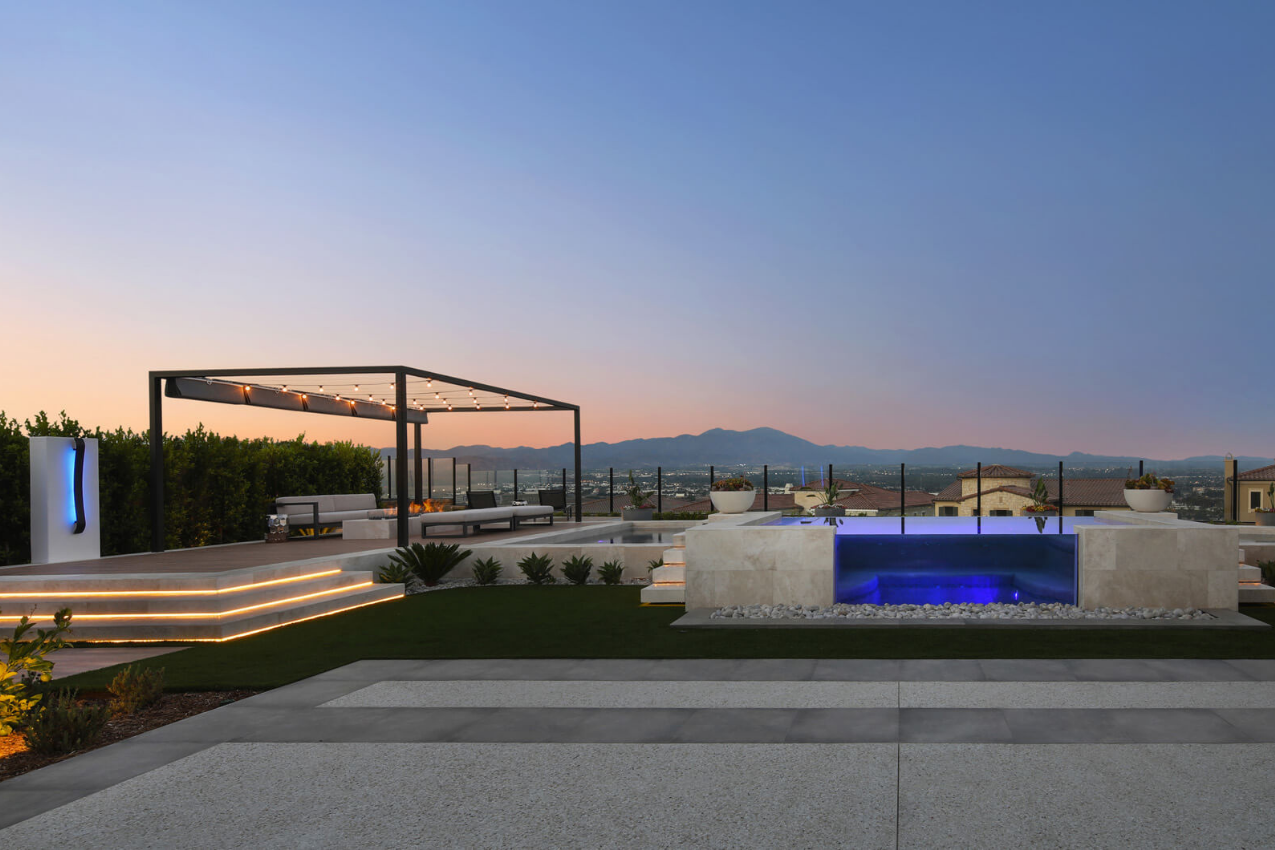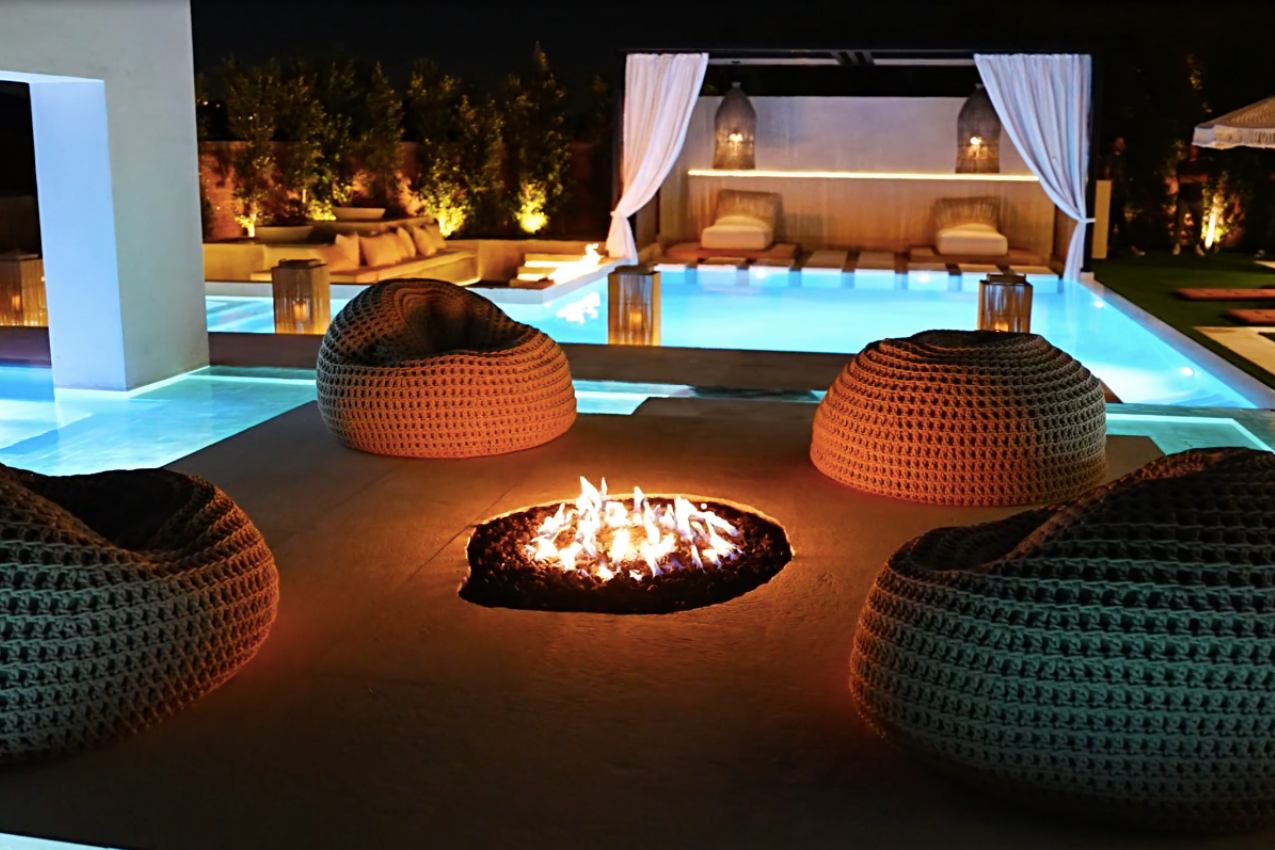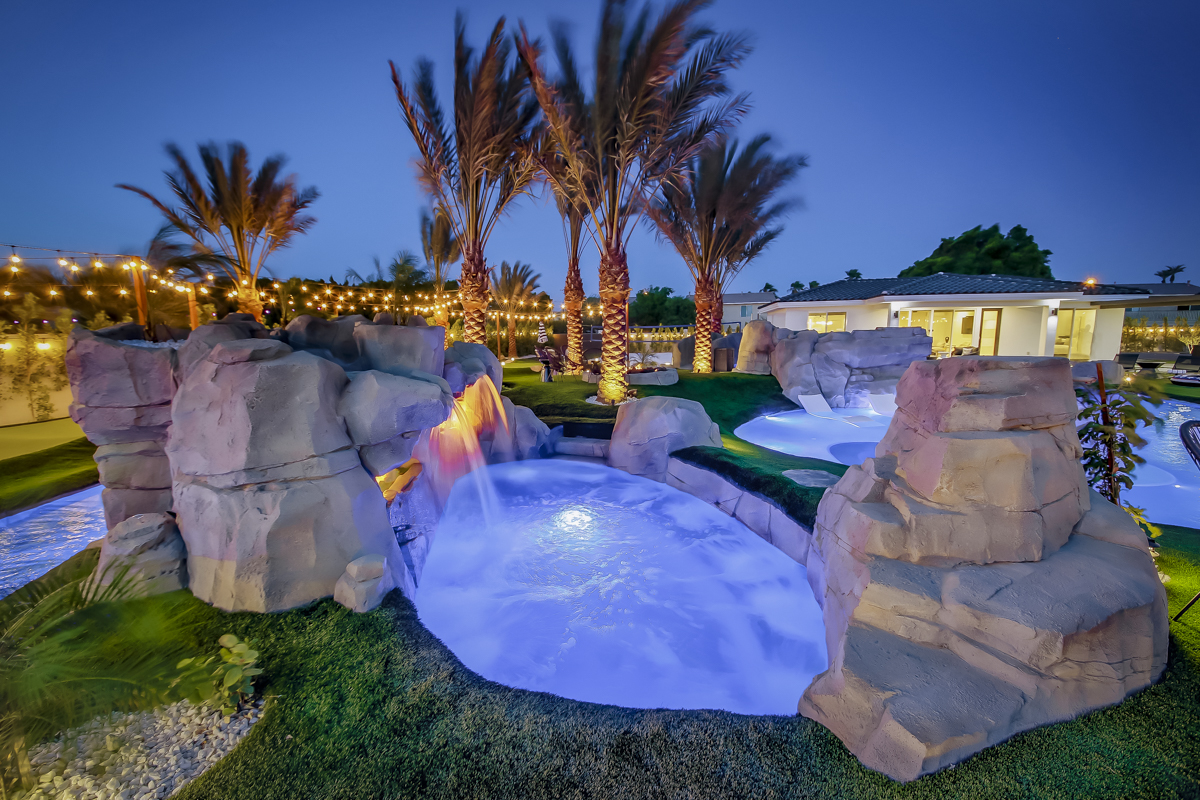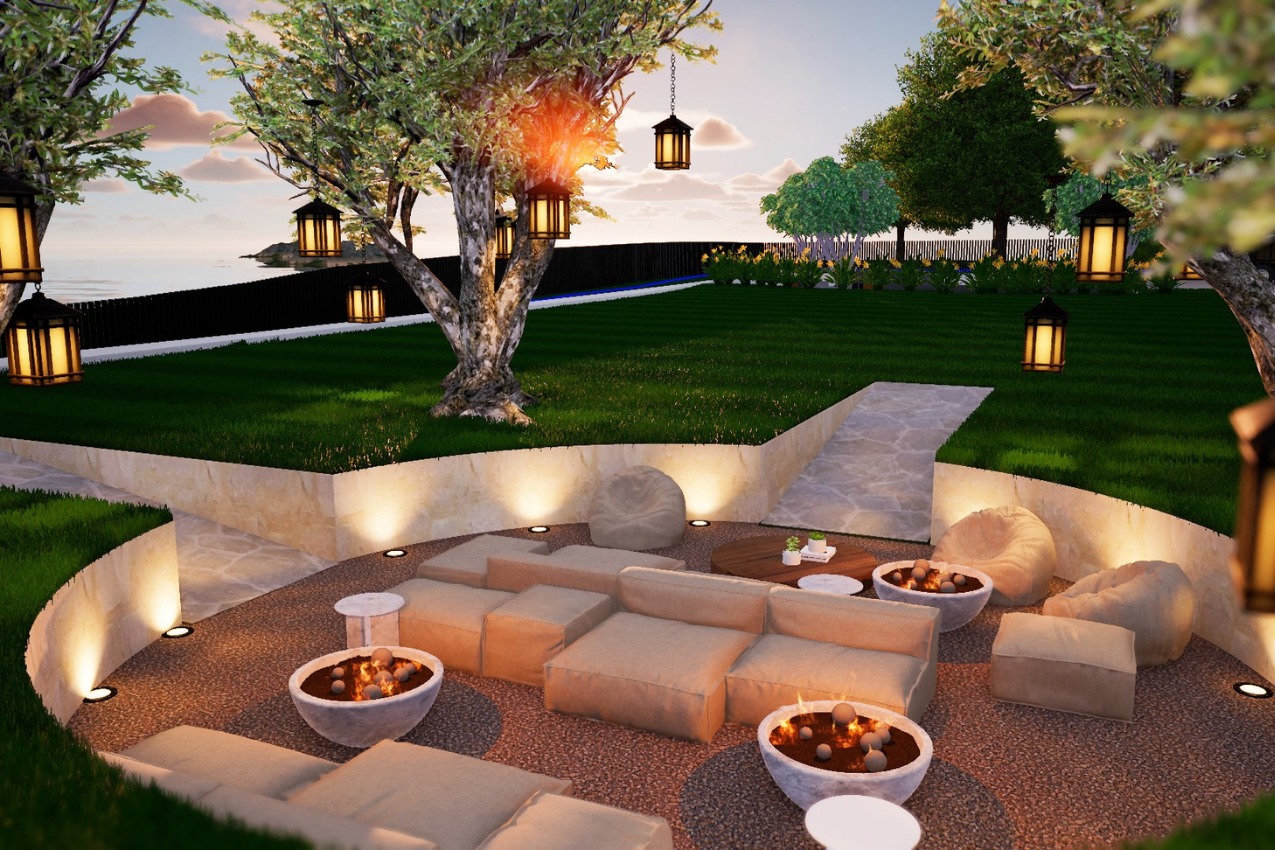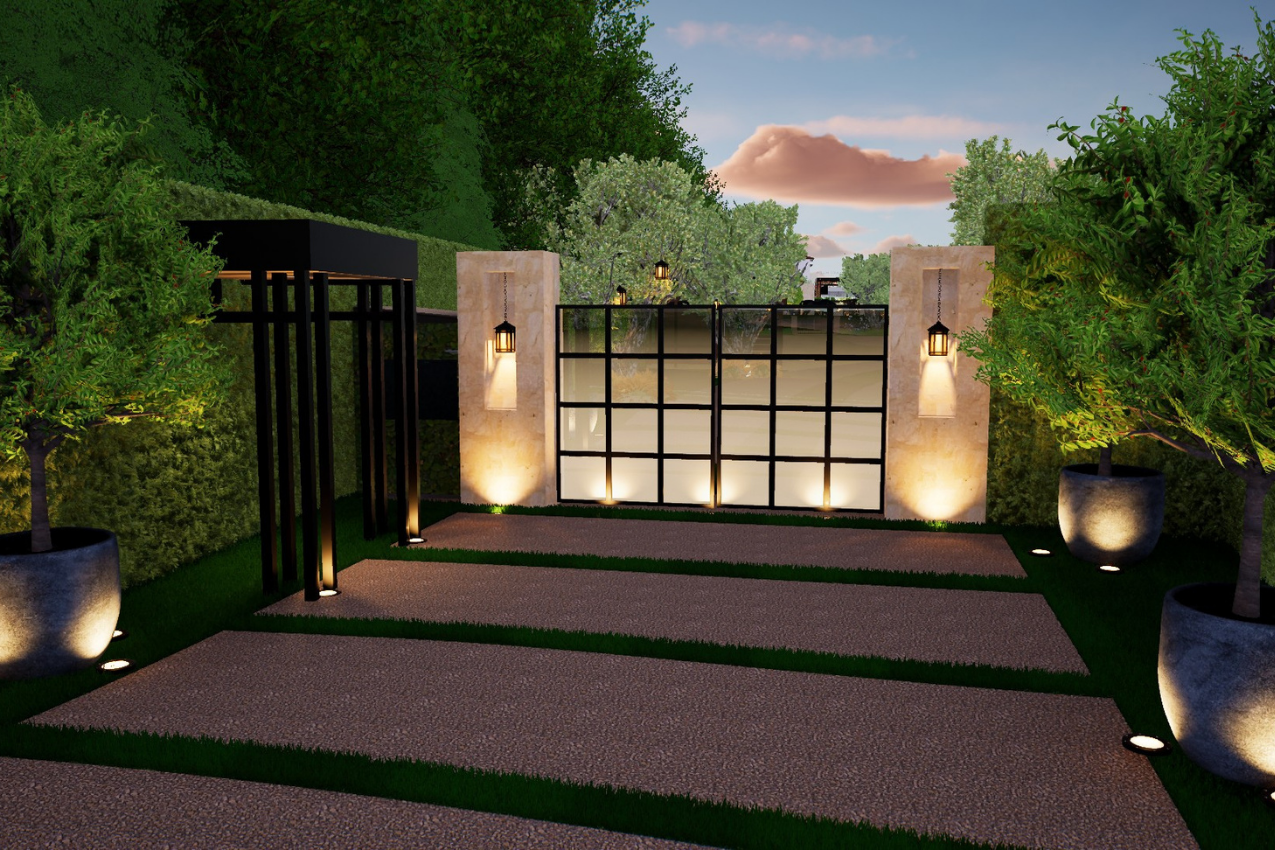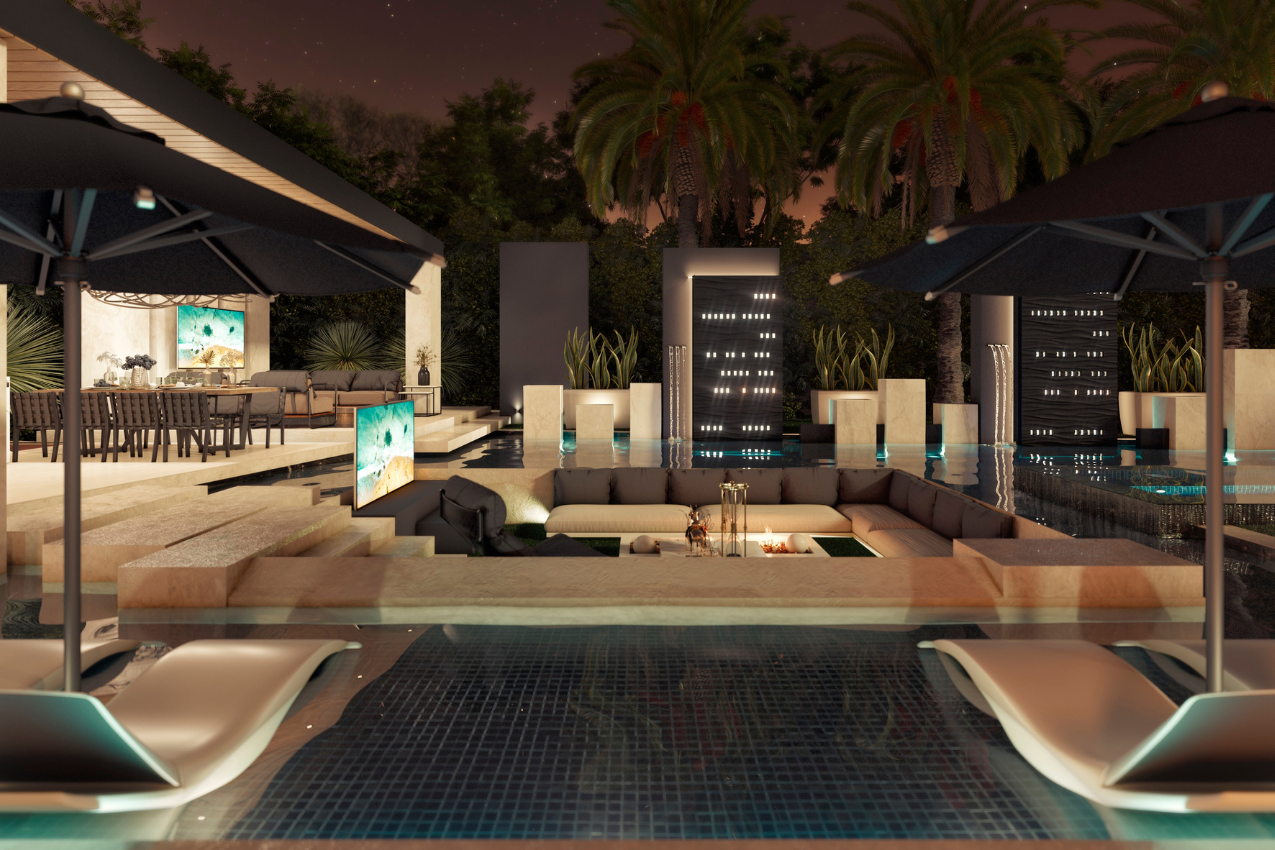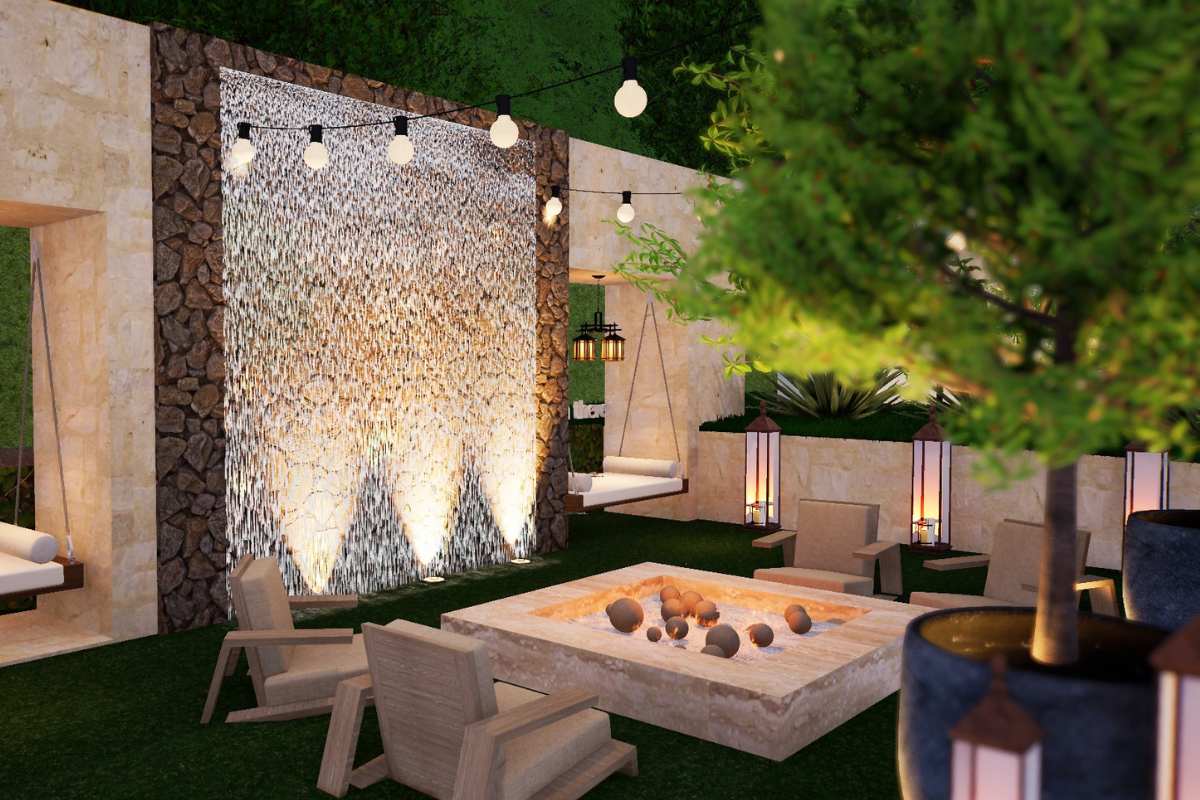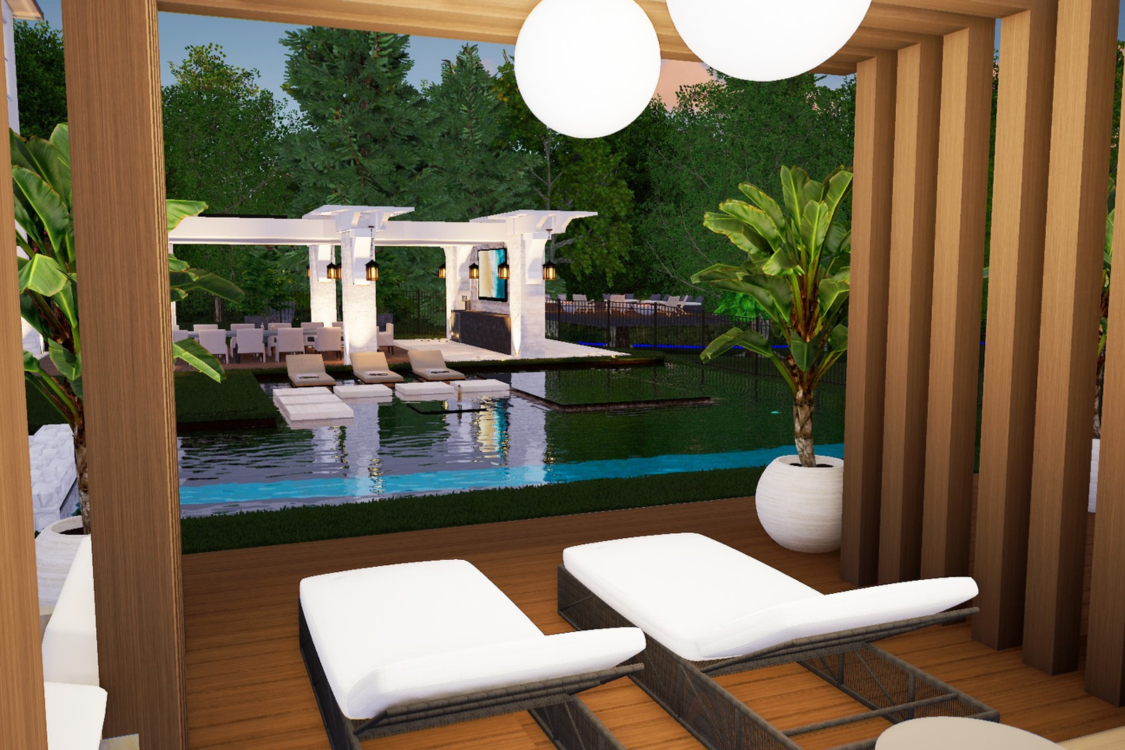 READY TO TRANSFORM YOUR YARD? 
Here's How To Get Started: