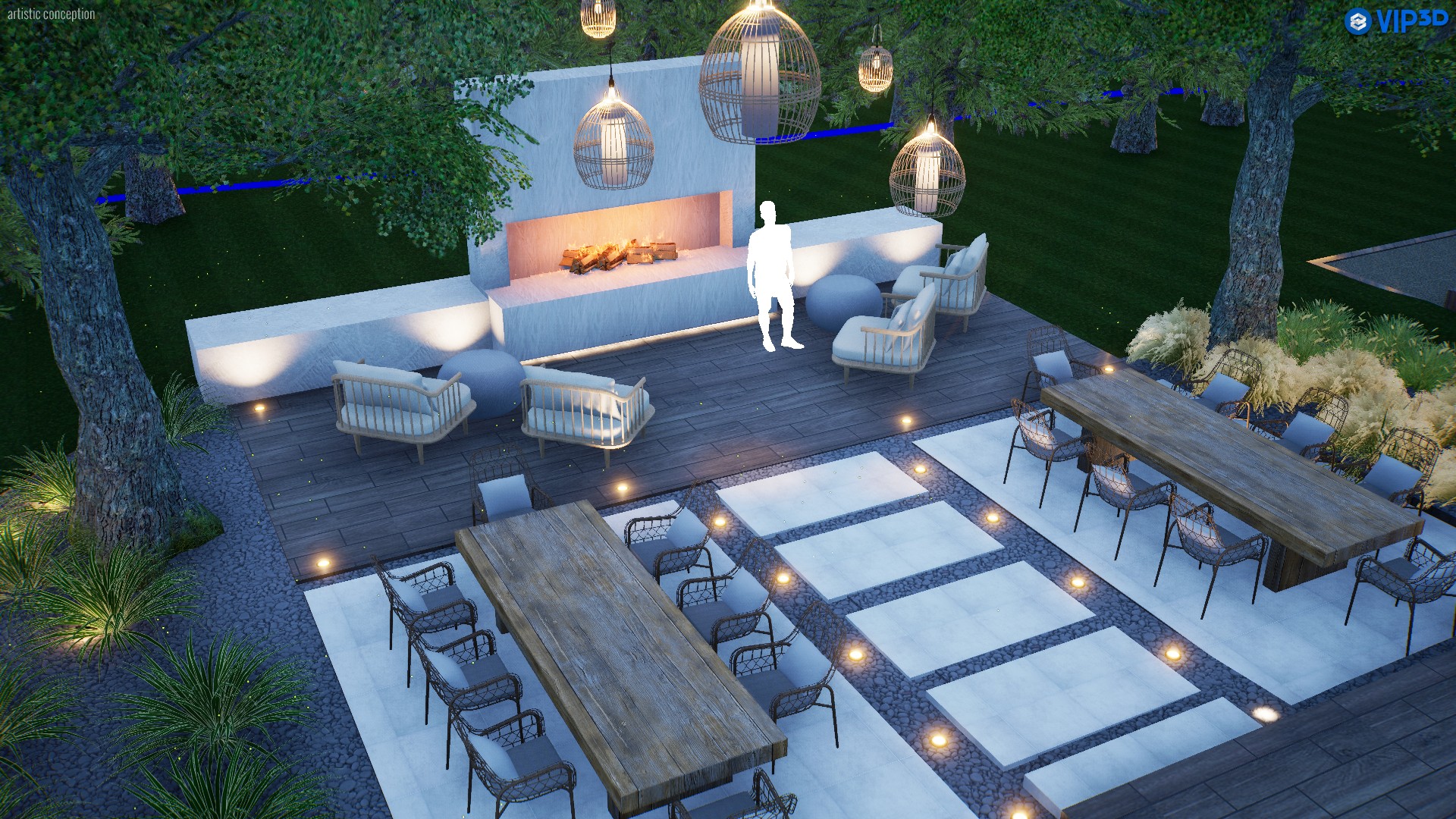 DINING IN STYLE
A dining space is key for hosting guests over the holiday season and one of our favorite dining areas we've ever designed was for a client in Colorado. We were able to utilize the existing trees and landscape that made this yard incredible to create an area where you can eat under a natural canopy of greens. It truly embodies the idea of connecting with nature, but still being able to enjoy all the amenities of a high-quality dining experience.
Plus, we managed to fit not one, but two, massive dining tables in the yard. The dueling tables are the perfect place to host Thanksgiving dinner, holiday brunch, or a New Year's celebration. They seat so many people, our client never needs to worry about having enough seating for all their guests. We also made sure to incorporate cafe tables, bench seating, and additional areas to enjoy a meal into the space, so no matter what kind of gathering our client wants to host, they have ample dining areas to utilize with their loved ones.
INSPIRATION FOR YOUR SPACE:
Think about how you can utilize the natural features in your own yard to make an outdoor dining experience that's unique to your space. And, keep variety in mind by incorporating multiple seating areas or multi-purpose dining spaces where you can host different types of gatherings.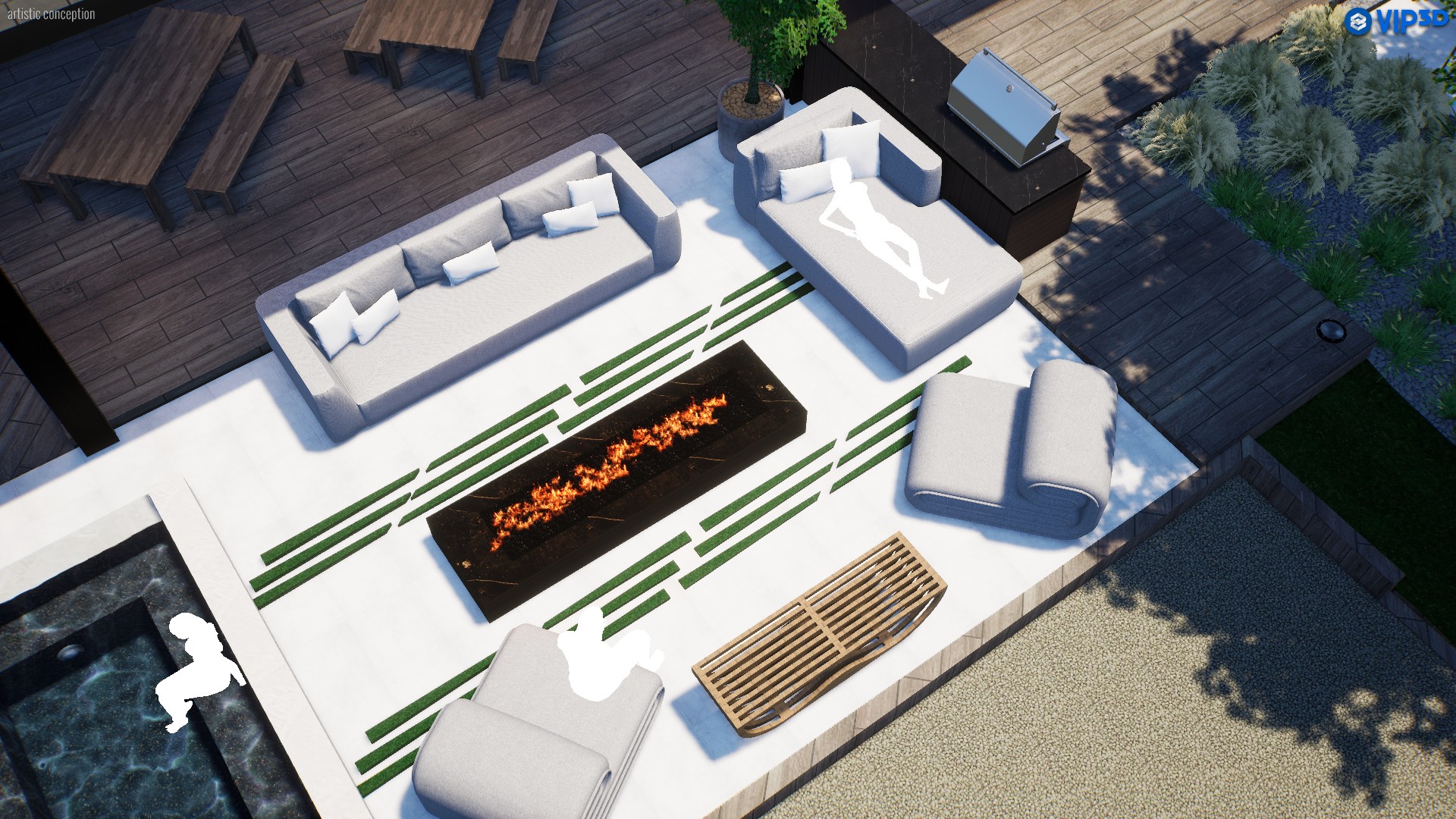 INCORPORATING COZY ZONES
When hosting—especially if it's over the holidays—keeping guests comfortable and cozy is important. In this yard, where winter in Colorado brings cold temperatures and snow, we made sure to give our client and all of their guests plenty of areas where they can stay warm. We added an oversized fireplace with big lounge chairs that are just begging for you to curl up and warm up in.

And, because this client lives in Colorado and we knew that guests would need ample areas to get warm, we added another seating area with a fire pit and plush couches and lounges to enjoy. It's nestled into the center of the yard and is a great place to entertain and keep cozy.

We also incorporated a massive spa into the space because there's nothing quite like soaking in a heated pool to keep you warm, even when it's the middle of winter. There's space for our client to host plenty of people in this spa and it warms up the entire yard.

INSPIRATION FOR YOUR SPACE:
Consider how to add cozy elements to your space when you're hosting guests this holiday season, and remember, details make all the difference. Whether you decide to build a fire pit, add a spa, or simply add some cozy accessories to your existing space, there are countless ways to warm up your yard.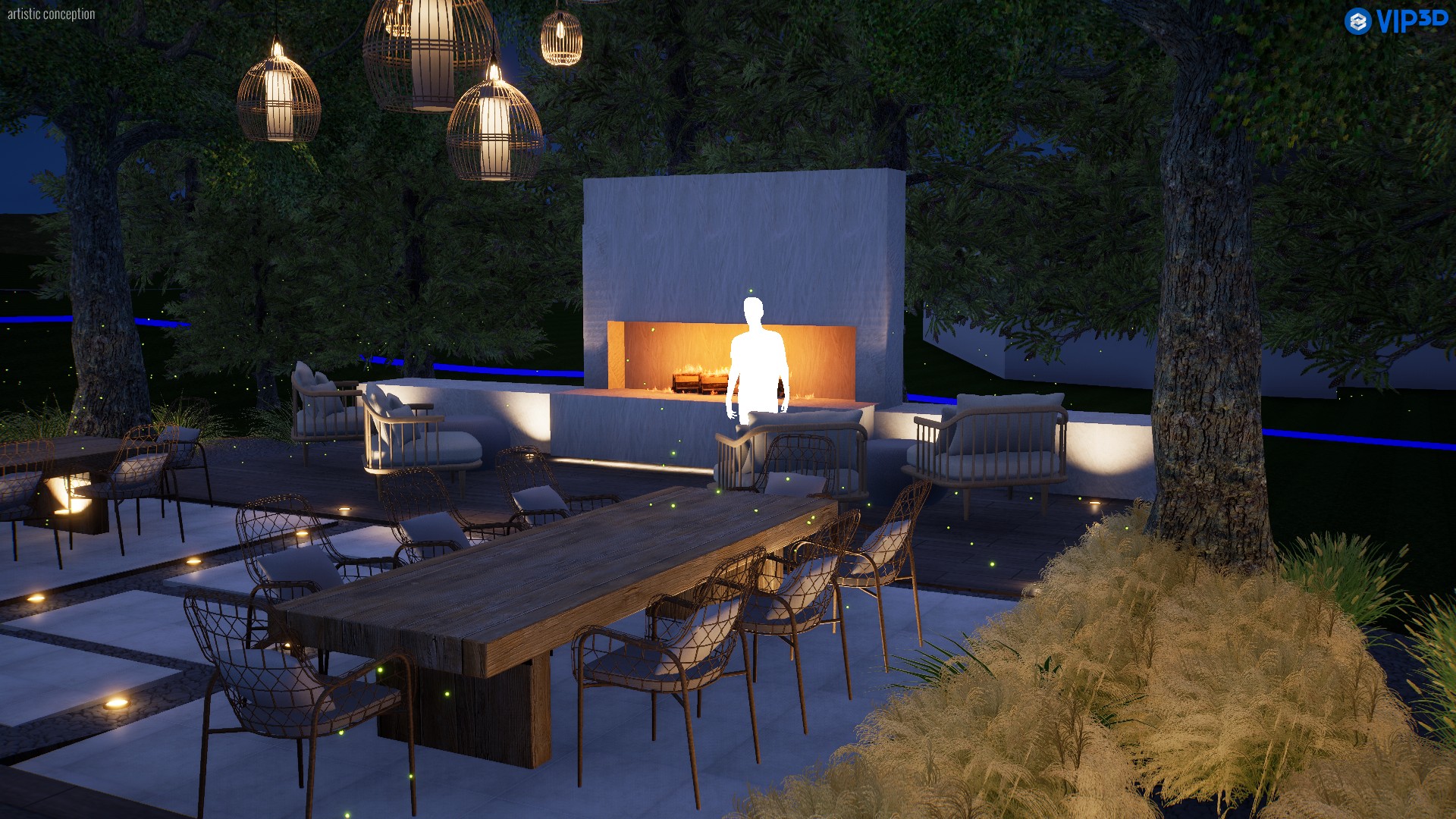 JUST THE RIGHT LIGHTING
In this yard, we were able to take the existing trees and make them a focal point in the design—both by providing natural shade to the dining area and by hanging lanterns throughout the branches. It's an almost magical feeling when you're eating under twinkling lantern lights and it's something that makes this yard incredibly special.

But, the lanterns aren't the only lighting we added to this space. We made sure our clients could host after-hours parties by incorporating soft lighting throughout the ground and around the landscaping. The effect adds a subtle glow to the space and ensures that our client can use their yard to entertain—day or night.

We even included areas where our clients can set the tone and choose the lighting colors they want, depending on who they are hosting and for what occasion. We love when our clients are able to change the space depending on how they plan to use it with their guests.

INSPIRATION FOR YOUR SPACE:
Adding lighting to your yard is a simple way to make it more magical, especially during the holiday season. Think about incorporating hanging lanterns, twinkle lights, or color-changing elements into your yard this year.
We hope you're able to take inspiration from this design and start thinking about how you can create a space in your yard that's perfect for hosting over the holidays. If you're ready to talk about your project, get in touch with our team. We're here to help bring your backyard to life so that you can be the talk of the Holidays and the best yard in the neighborhood. Click here to schedule a free consultation call.
Sign up for the Foxterra Design newsletter for weekly design inspiration, the latest exterior trends, and resources to help you create a yard you never want to leave.