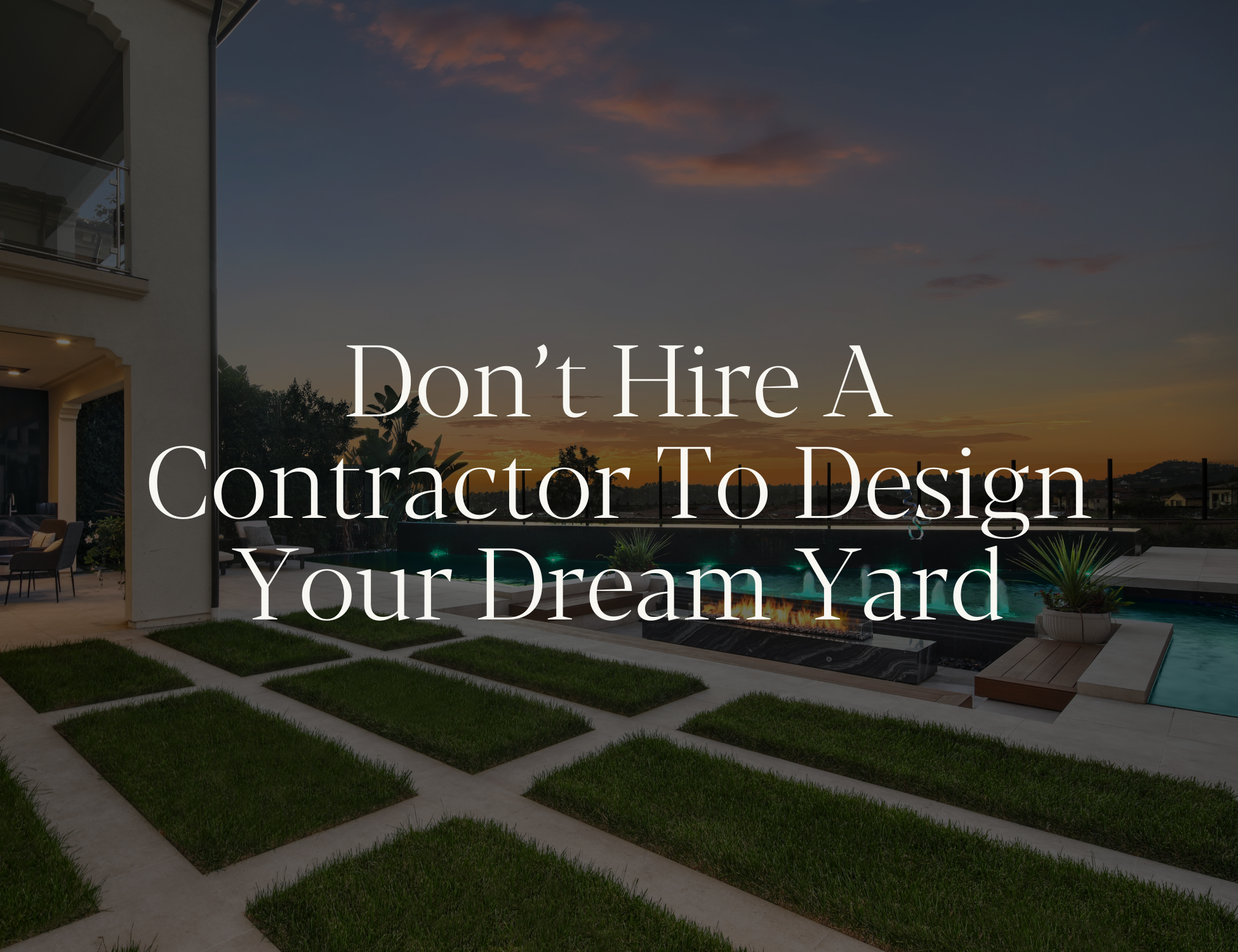 If you want a gorgeous kitchen – 

✔︎  Something that will fit all your needs  
✔︎  Meshes with your home's interior and your design style 
✔︎  You'll actually enjoy using because it's functional and stunning 

Which makes more sense?   

Hiring a cabinet maker to design your dream kitchen. 

 Or… 

Working with an interior designer. 

 🤔 

 The answer is pretty simple, right?  

You'd work with an interior designer

Sure, a cabinet maker has worked on a ton of kitchens and could probably come up with something based on all the designs he or she has built and installed. 

But, if you want creativity and expertise, you'd hire a designer.  

Just like you would… 

❌  Not hire a tile installer to design your dream spa-feel bathroom or hire a painter to design your ultra-relaxing, hotel-inspired bedroom. 

✅ You'd hire an interior designer. 

👉  When it comes to the exterior of your home, and your yard, the same is true. You would… 

❌  Not hire a contractor or a pool installer to design your dream yard. 

✅ You'd hire an exterior designer. 

And that's exactly why Foxterra Design focuses on luxury exterior and pool design.   

We create custom designs for our clients – backed by our design expertise and our experience working as contractors.

It's the best of both worlds because you end up with a world-class design that's everything you wanted for your yard. 

And, you know that a contractor will actually be able to build the design in real life.  

If you want your yard to… 

✨  Fit your design style and seamlessly blend indoor/outdoor living 

✨  Have that 'wow' factor that will make your yard stand out 

✨  Include stunning features and high-end details only an experienced exterior designer would think of 

…then click the button below to book your free Design Consultation with our team of expert exterior designers. We can't wait to start exploring the potential in your yard.  
5 'Wow Factor' Features In This $600,000 Backyard Makeover
READY TO TRANSFORM YOUR YARD? 
Here's How To Get Started:
Ready To Transform Your yard?
Download The Ultimate Exterior Design Inspiration Guide
Enter your name and email below to get instant access to an exclusive look at our latest designs, the stand-out features that bring each yard to life, and tons of inspiration for your own backyard transformation.